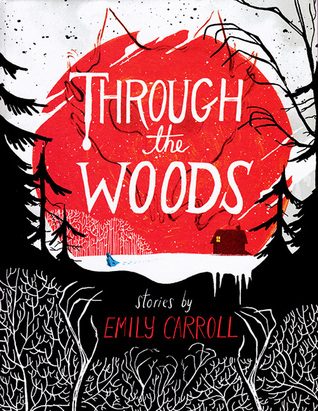 Into The Woods by Emily Carroll
Published by Margaret K. McElderry Books
Genres: Graphic novel, YA, Horror, Fantasy
For Fans of: Beautifully illustrated horror novels, short spoopy stories that'll stick with you
My Rating: 4 stars out of 5
'It came from the woods. Most strange things do.'

Five mysterious, spine-tingling stories follow journeys into (and out of?) the eerie abyss.

These chilling tales spring from the macabre imagination of acclaimed and award-winning comic creator Emily Carroll.

Come take a walk in the woods and see what awaits you there…
---
This is gonna be short, cause I haven't quite got my mojo back
Hiya! I'm back. Sorta. Now, I could sit here and write, like, three paragraphs apologizing for my absence, or I could just get straight to the review. Which would you prefer? If your answer is the review, then you've made the smart choice my friend, 'cause my excuses are lengthy, and really, who's got the time?
Anyway; Through The Woods. Wow.
I feel like this book doesn't get enough credit for how wonderful it is. Sure,  90% of its reviews are rave pieces, people talking about how these little tales kept them up at night. But… does anyone talk about how great the storytelling component to this book is? Because lemme tell you guys, it was downright masterful.
Each story was short, high in tension, and wonderfully crafted. The prose was lyrical, the art for each tale fit perfectly with the story's mood and tone. They may not have all been scary (Remember? I don't scare easy? It's a thing) but they were well-told and original, and there was something about each of them that sorta… stayed with you.
My personal favorite was His Face All Red. It's a short tale about two brothers and, I swear to you. It was chilling. Like, I spent a long time thinking about that story. It was just… you know what. Read it. It was good. It was gripping. And it was just so simple.
Most of these stories were, actually. Simple, I mean. And that, I think, is what made them so great. They're tales you could picture yourself being told as a child to send you to sleep without fuss. They were folksy and tense and artfully simple. And the art? LORD. Imagine French Children's Illustration but for a horror book? That's what this is. This was Madeline fighting woodland murder monsters.
Carroll hasn't published anything since TTW. At least, I don't think she has. But damn, if/when she does, I will read it happily.