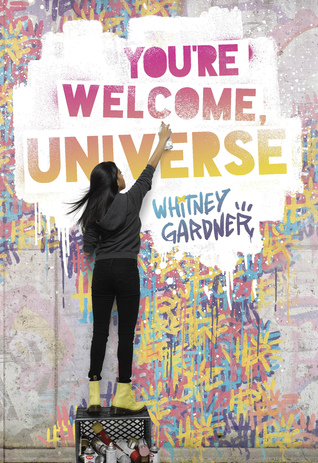 You're Welcome Universe by Whitney Gardner
Published by Knopf's Books for Young Readers
Genre: Contemporary, YA
For Fans of:  Art, graffiti, wonderfully diverse books, friendcentric stories
My Rating: 4 stars out of 5
When Julia finds a slur about her best friend scrawled across the back of the Kingston School for the Deaf, she covers it up with a beautiful (albeit illegal) graffiti mural.

Her supposed best friend snitches, the principal expels her, and her two mothers set Julia up with a one-way ticket to a "mainstream" school in the suburbs, where she's treated like an outcast as the only deaf student. The last thing she has left is her art, and not even Banksy himself could convince her to give that up.

Out in the 'burbs, Julia paints anywhere she can, eager to claim some turf of her own. But Julia soon learns that she might not be the only vandal in town. Someone is adding to her tags, making them better, showing off—and showing Julia up in the process. She expected her art might get painted over by cops. But she never imagined getting dragged into a full-blown graffiti war.

Told with wit and grit by debut author Whitney Gardner, who also provides gorgeous interior illustrations of Julia's graffiti tags, You're Welcome, Universe introduces audiences to a one-of-a-kind protagonist who is unabashedly herself no matter what life throws in her way.
---
I meant to have this review out a month ago but clearly I'm the literal worst.
You're Welcome, Universe was like nothing I'd ever read before, and I mean this in the absolute best way possible.
The book follows Julia, a Deaf Indian-Irish girl who can lay down some siiiick tags like nobody's business. She's kicked out of her private school for deaf kids when her supposed best friend narcs on her for tagging school property (to be fair, Julia was only doing it to protect the girl but whatever), and is forced to start all over at a, quote-unquote mainstream school in the suburbs.
It goes about as well as you expect. And as if being the new girl – the Deaf new girl – wasn't bad enough, Julia also finds herself in the middle of a turf war with someone who keeps messing with her tags.
I loved this. So much. Julia is such an angry, angsty heroine. And never in a unbearably bratty way that makes her unlikable. She's relatable. She could be rude and make stupid decisions, but Julia loved her mothers, and she honestly tried her best.
This novel was basically about finding yourself – finding your voice. And it's about friendship. Both Julia and YP, the friend she reluctantly makes at her new school, both go through a journey of self-discovery within the pages of this book. They both deal with their issues and come out stronger in the end. I would have liked to have seen YP's (and Julia's) issues talked about a little more, but maybe that's just me.
Overall, I loved this book. It broke stereotypes, was well-written, was wonderfully diverse, effortlessly tied art and prose together, and, most importantly for me, I think, it put friendships first. It isn't often that I find a book that puts chicks before dicks, and I loved this one for it.
You're Welcome, Universe was an absolute treat to read, and I fully recommend that you pick it up.
I received a copy of this book from the publisher via NetGalley in exchange for an honest review.