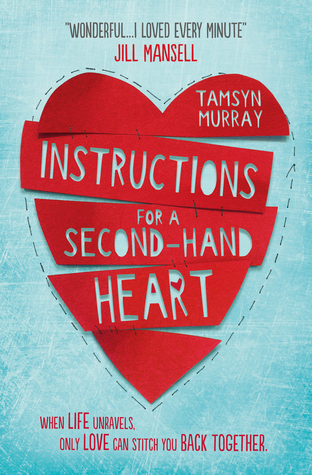 Instructions For A Second-Hand Heart by Tamsyn Murray
Published by Usborne Publishing Ltd.
Genres: Contemporary, YA, Romance
For fans of: The Fault in Our Stars, If I Was Your Girl, stories that deal with illness, disability and depression
My rating: 3 stars out of 5
Jonny isn't like "normal" teenagers. Every day he wakes up in hospital, kept alive by a machine. Every day he wonders if this is the day they'll find a donor match for his heart. Every day he wonders if this is the day he'll die.

Every day, Niamh fights with her "perfect" brother Leo. Every single day, Leo wins. Every day, Niamh dreams of a life without Leo. But all that changes on the day of the accident: the day EVERYTHING falls apart.

This is a story about facing the future no matter how frightening. This is a story about healing your heart, no matter how much it hurts.
---
Well, this took me by surprise
In case you've forgotten, here's reminder #28294: contemporary romance isn't usually my thing. Don't get me wrong, I love a good love story as much as the next rabid shipper (Just look at my Kanej and Dizzie love) but there's only so much of the "boy-meets-girl-and-they-fall-in-love-despite-Problems" schtick I can tolerate, you know?
I'm glad to say that Instructions For A Second-Hand Heart didn't follow this same formula. Not completely, at least.
The book follows Jonny, a teenage boy who's never had a real childhood because he's spent most of his life in hospital due to some severe cardiac issues, and Niamh, a girl whose life gets knocked inside out when her twin brother Leo meets with a fatal accident. Their lives suddenly become entwined when Jonny becomes the lucky patient who receives Leo's heart. (WHAT? That's not a spoiler! READ THE BLURB!)
Anyway, what follows is a series of events that are more or less what you'd expect out of a book like this, but with a few twists. Without going too detailed and (really) spoiling anything for you, here's a breakdown:
THE ROMANCE:
I… wasn't a fan of this, tbh. A lot of the time it felt really forced, in a "I intended this to be a romance, and dammit, it's gonna be a romance" sort of way. Nothing about Niamh and Jonny's relationship, save the Issues they faced in the climax, felt very organic.
THE WRITING:
Decent. I especially liked the way the two POVs were so different from each other. Niamh and Jonny's narrative voices felt completely different from each other – and they way each of them described things was different. I liked that. It could, however, get a teensy bit tell-not-show from time to time – but overall, I liked the writing.
THE PREMISE:
The premise of this book is what actually got me interested in the first place. It sounded like the kind of book that would leave me emotionally compromised for a while. It didn't exactly hit me the way I hoped it would, but the premise was still great. The obsession! The lies! The refusal to deal with emotions! I was here for it all.
Also: I'm going to take this moment to appreciate all the research the author put into this book. Well done.
THE PLOT:
The plot surprised me. I really like the way it dealt with the emotions, the pain and the grief that a situation like this would stir. Especially towards the end, when all the main players sort of… let loose and chose to be honest. That was very well done, and I liked the turn it took there. SPOILER:[I would have preferred if it had ended a little more ambiguously than it did – maybe with Niamh and Jonny considering giving their relationship another chance, instead of magically getting past everything and getting back together. But whatever]
THE CHARACTERS:
The characters were real. Not necessarily likable, a little bland at times, but definitely real.
THE PACING:
Ah. Yes. This I didn't like.
Listen, I read this book in one sitting, in just a few hours. The story just whoosed by. From start to finish, the pacing just went on at a mile a minute, that everything just sort of… blurred. Leo died. His organs were donated. Jonny got his heart. He met Niamh. Etc. etc. etc.  I wasn't given any time to feel anything; to care about these characters. And this really upset me in the case of Emily. She was a character I could have really cared about, but I wasn't given enough time to give a damn. Such a shame.
I think this is where the book did things wrong – forced romance aside. (Let's face it, it's a surprise when I like the romance in romance books). But I could have liked this book more if I just had time to absorb everything that happened. But it just felt like I was watching a flip-book story. Cute, with the potential to be something really enjoyable, but not something that could really sink its hooks in you.
Oh well.
If you liked The Fault in Our Stars and wish it had been 1000 times less tear-jerky than it was, then this book is for you.
I received a copy of this book from Usborne Publishing Ltd in exchange for an honest review