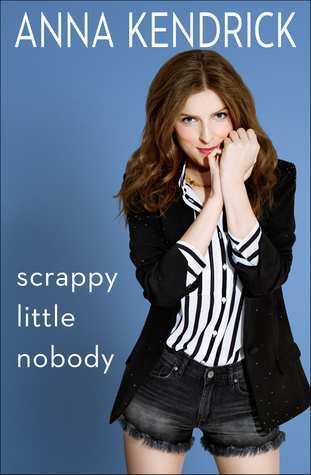 Scrappy Little Nobody by Anna Kendrick
Published by Touchstone
Genres: Memoir, Humor, Nonfiction, Autobiography
For fans of: Anna Kendrick (duh), dry, witty, deadpan-ish humor that some people just won't get.
My rating:  4 stars out of 5
Even before she made a name for herself on the silver screen starring in films like Pitch Perfect, Up in the Air, Twilight, and Into the Woods, Anna Kendrick was unusually small, weird, and "10 percent defiant."

At the ripe age of thirteen, she had already resolved to "keep the crazy inside my head where it belonged. Forever. But here's the thing about crazy: It. Wants. Out." In Scrappy Little Nobody, she invites readers inside her brain, sharing extraordinary and charmingly ordinary stories with candor and winningly wry observations.

With her razor-sharp wit, Anna recounts the absurdities she's experienced on her way to and from the heart of pop culture as only she can—from her unusual path to the performing arts (Vanilla Ice and baggy neon pants may have played a role) to her double life as a middle-school student who also starred on Broadway to her initial "dating experiments" (including only liking boys who didn't like her back) to reviewing a binder full of butt doubles to her struggle to live like an adult woman instead of a perpetual "man-child."

Enter Anna's world and follow her rise from "scrappy little nobody" to somebody who dazzles on the stage, the screen, and now the page—with an electric, singular voice, at once familiar and surprising, sharp and sweet, funny and serious (well, not that serious).
---
I feel like my immense love for Anna Kendrick stems from the fact that we seem very much alike – personality-wise and sense-of-humor-wise. Which probably makes me a narcissistic asshole. 
One thing that 98% of the reviews I've read for this book have in common is this book wasn't as funny as everyone thought it would be.
This is partly true. I mean, yes, it wasn't AS funny as you'd expect an Anna Kendrick book to be, but it wasn't unfunny. I personally thought it was a delight, but I'm sort of biased in here because Anna and I seem to share the same brand of dry, witty humor* that, often comes across as serious, so pinning her tone isn't really hard for me.
But yes, I thought it was a hoot. This book had me chuckling consistently. Because Anna is witty, and sarcastic, and she doesn't take things (herself included) seriously.
"This made me extra sensitive, and though they may have meant well, I became one of those little kids who didn't enjoy grown-ups fucking with me."
As far as celebrity memoirs go, however, Scrappy Little Nobody wasn't the most… juicy. Let's be real here. We all say we read celebrity memoirs to get a better understanding of our favorite celebs, but 90% of the time we're just hoping for some juicy reveals. I dare you to look me in the eye and tell me I'm wrong.
*stares at you*
If you're the kind who's only interested in the Juicy Memoirs TM, then Scrappy Little Nobody is not the memoir for you. If you're interested to see how this incredibly funny, super talented actress got her start in the movie business, then by all means pick it up, because that's EXACTLY what this memoir talks about.
"Anxiety typically only becomes a problem for me when I feel I have no choice, when I feel trapped."
#ME
I could go on and on about how lovely and real Anna came off in this book. Because, really. It was all just so normal. 
The little peeks into Hollywood Life were interesting, but what I really loved were the stories about her past and her family. It's mind boggling to think that she was living in a tiny bedroom with two other people when she filmed the first Twilight movie. AND Up In The Air. I think my brain exploded a little bit there.
Anyway. This was a fun, quick book – perfect for when you're busy and can only read in little bursts. And despite what a lot of people are saying, it was funny. You just have to pay attention to the tone, and you're all set.
The only real criticism I have to offer here is that I thought the essay about the parties was a little unnecessary. Still relatable as heck because, omg that NYE party? I would totally host that. But yeah. Unnecessary and out of tune with the rest of the book. But otherwise? This was very fun.
---
* No, really. You wouldn't believe the number of times I've made a joke and someone's taken me seriously. Note to self: Maybe work on de-perfecting your deadpan. It's a little too good