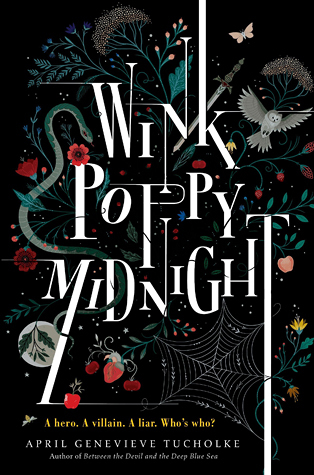 Wink Poppy Midnight by April Genevieve Tucholke
Published by Dial Books
Genre: YA, Magic Realism, Contemporary
For Fans of: Messed up tales about messed up people
My rating: 2 stars out of 5
Every story needs a hero.
Every story needs a villain.
Every story needs a secret.

Wink is the odd, mysterious neighbor girl, wild red hair and freckles. Poppy is the blond bully and the beautiful, manipulative high school queen bee. Midnight is the sweet, uncertain boy caught between them. Wink. Poppy. Midnight. Two girls. One boy. Three voices that burst onto the page in short, sharp, bewitching chapters, and spiral swiftly and inexorably toward something terrible or tricky or tremendous.

What really happened?
Someone knows.
Someone is lying
---
Pretty book covers: 294, Me: 0
It's an honest to God shame that the plot of this one was relatively pointless, because the writing is beautiful. I think I said it about her before, when I read her short story from the Slasher Girls and Monster Boys anthology. She utilizes repetition masterfully, so that her prose feels poetic, no matter how simple the language is.
Unfortunately, ifs and buts are not candy and nuts, and good writing, alone, does not a good book make. I mean, I'm still going to have a Merry Christmas, but this book won't be why. 
Wink Poppy Midnight is the story about two girls and a boy, all three with ridiculous names (which, as far as I can tell, seems to be Tucholke's thing). Midnight, the cardboard, vanilla "hero" of the story, is in love with Poppy – a beautiful, possibly mentally ill bully. But Midnight knows Poppy is no good for him, and he wants out – and when he and his father move into an old farmhouse just outside of town, he thinks he meets his perfect match in his slightly-weird, but sweet, neighbor Wink Bell.
I don't really know what to tell you about this one. I mean, it could have been good? Except all the characters were either loathsome or insipid (sometimes both) and the story overall seemed pretty damned pointless. Because, really, all Tucholke's pretty writing did was, temporarily, distract you from the fact that nothing. bloody. happens.
No, really. There was no mystery to this whatsoever, because we were given cues RIGHT OFF THE BAT that neither of the girls are… all right – if you catch my drift. The only character in this book who could have been likable – Midnight – was blander than a bowl of cold, unsweetened, porridge.
And because of this lack of mystery, the story suffered. It could have been good. The magic realism, I thought, was a nice touch, and the premise of this book was honestly the kind of messed up that could have been GREAT, had it been executed right. But with characters that you couldn't help but hate, and a message that ended up being completely pointless, Wink Poppy Midnight couldn't live up to it's premise.
And since we're on the subject of interesting premises, I found the whole, insipid boy in the middle of two not-so-good-girls a little… recycled. I mean, correct me if I'm wrong, but didn't Tucholke do the same exact thing with The Flicker, The Fingers, The Beat, The Sigh?
I've said that the writing was very good, and I'll say it again, because it deserves note. Tucholke writes beautifully, and there's a sort of timeless quality to her writing. This story could have been set in any time period, and it would have worked. It's a damn shame this story wasn't better. Really, it is.
Wink Poppy Midnight was supposed to be a book about people being more than what they seem, or more than what we think they are. And if that's the kind of book you're looking to read, then you're better off reading Paper Towns, 'cause John Green did it better.