TRUNKDAY is an original, monthly feature created here at So, We Read This Book. We cooked it up in celebration of our partnership with Junk Trunk, an art blog that promotes artists all over the world, as a way of saying "K THNX LUV U".
TL;DR:  This post has been approved by Junk Trunk.
Something most of you may or may not know about me is that I'm actually an illustrator. And as a newbie-illustrator, one of my biggest goals in life it to illustrate books. Comic books, graphic novels, children's books, special edition YA books – I wanna illustrate them all. And so, obviously, illustrated novels, though I may not talk about them much here on the blog, mean a huge deal to me.
And that brings me to the topic of our first ever TrunkDay post. A list of illustrated novels that I've added to my TBR for the sake of ART! Okay, no, that's a lie. I also really want to read them. It's about a 50/50 split.
ANYHOO, THE LIST!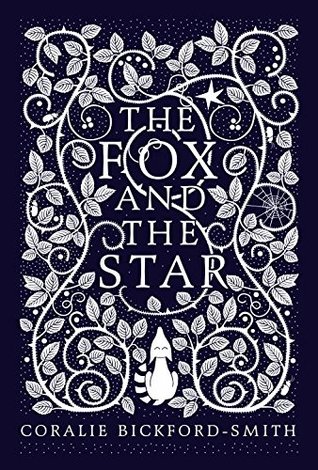 1.  THE WILD ROBOT – PETER BROWN
When robot Roz opens her eyes for the first time, she discovers that she is alone on a remote, wild island. Why is she there? Where did she come from? And, most important, how will she survive in her harsh surroundings? Roz's only hope is to learn from the island's hostile animal inhabitants. When she tries to care for an orphaned gosling, the other animals finally decide to help, and the island starts to feel like home. Until one day, the robot's mysterious past comes back to haunt her….
Why I want it: Look, it sounds like a good ol' feel trip, and of course the masochist in me wants to read this. It's made a lot of reviewers cry, and joining them in the pool of our collective tears sounds like such a swell idea. Plus, this is apparently what the illustrations look like. Of COURSE I WANT IT.
2. PAX – SARA PENNYPACKER
Pax was only a kit when his family was killed, and "his boy" Peter rescued him from abandonment and certain death. Now the war front approaches, and when Peter's father enlists, Peter has to move in with his grandpa. Far worse than being forced to leave home is the fact that Pax can't go. Peter listens to his stern father—as he usually does—and throws Pax's favorite toy soldier into the woods. When the fox runs to retrieve it, Peter and his dad get back in the car and leave him there—alone. But before Peter makes it through even one night under his grandfather's roof, regret and duty spur him to action; he packs for a trek to get his best friend back and sneaks into the night. This is the story of Peter, Pax, and their independent struggles to return to one another against all odds. Told from the alternating viewpoints of Peter and Pax.
Why I want it: Guys, this books it about a fox. A FOX. I LOVE foxes ♥ It's also supposedly full of cutesy little things like this. Why wouldn't I want this on my shelf? Why??
3. THE FOX AND THE STAR – CORALIE BICKFORD-SMITH
The Fox and the Star is the story of a friendship between a lonely Fox and the Star who guides him through the frightfully dark forest. Illuminated by Star's rays, Fox forages for food, runs with the rabbits, and dances in the rain—until Star suddenly goes out and life changes, leaving Fox huddling for warmth in the unfamiliar dark. To find his missing Star, Fox must embark on a wondrous journey beyond the world he knows—a journey lit by courage, newfound friends, and just maybe, a star-filled new sky.
Why I want it: Okay, I'm going to be honest with you. I didn't know too much about this book when I put it on my TBR. What caught my eye was the illustration work, which honest to God looks beautiful. I need this book on my shelf because I need this prettiness in my life. I don't care who knows it.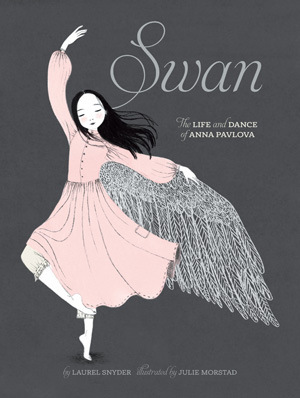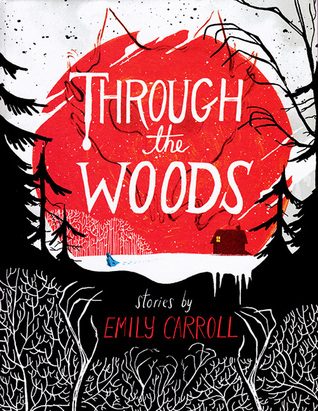 4. SWAN: THE LIFE AND DANCE OF ANNA PAVLOVA – LAUREN SNYDER and JULIE MORSTAD
The world is big.
Anna is small.
The snow is
everywhere
and all around.
But one night . . .
One night, her mother takes her to the ballet, and everything is changed. Anna finds a beauty inside herself that she cannot contain.

So begins the journey of a girl who will one day grow up to be the most famous prima ballerina of all time, inspiring legions of dancers after her: the brave, the generous, the transcendently gifted Anna Pavlova.
Why I want it: Ballet has always been a fascination of mine – an interest I never took up as a kid, but may as an adult, because I've always believed I didn't have the right body for it. (For those wondering, I look more gymnast/contemporary dancer than I do ballerina) Anyway. Ballet. A fascination of mine – and combined with these adorable illustrations, I just knew I had to get this.
5. TO THE SEA – CALE ATKINSON
Sometimes Tim feels invisible at school-until one day, when Tim meets Sam. But Sam isn't just any new friend: he's a blue whale, and he can't find his way home! Returning Sam to the sea is hard work, but Tim is determined to help. After all, it's not every day you meet a new friend!

This picture book about the power of friendship by new talent Cale Atkinson is brought to life by charming, dynamic illustrations.
Why I want it: Okay, look. I mostly want this because the illustrations are beautiful as heck. The story sounds adorable and important, too, but mainly, these are the sorts of illustrations I'd like to be doing as a children's book illustrator, and this book would be beyond amazing in terms of research/inspiration.
6. THROUGH THE WOODS – EMILY CARROLL
'It came from the woods. Most strange things do.'

Five mysterious, spine-tingling stories follow journeys into (and out of?) the eerie abyss.

These chilling tales spring from the macabre imagination of acclaimed and award-winning comic creator Emily Carroll.

Come take a walk in the woods and see what awaits you there…
Why I want it:  Okay, I'm cheating a little with this one. It's a graphic novel, not a regular novel with illustrations. But it's a YA horror graphic novel comprised of five short stories. It's beautifully illustrated, and, according to other reviewers, wonderfully dark and captivating. This book is right up my alley.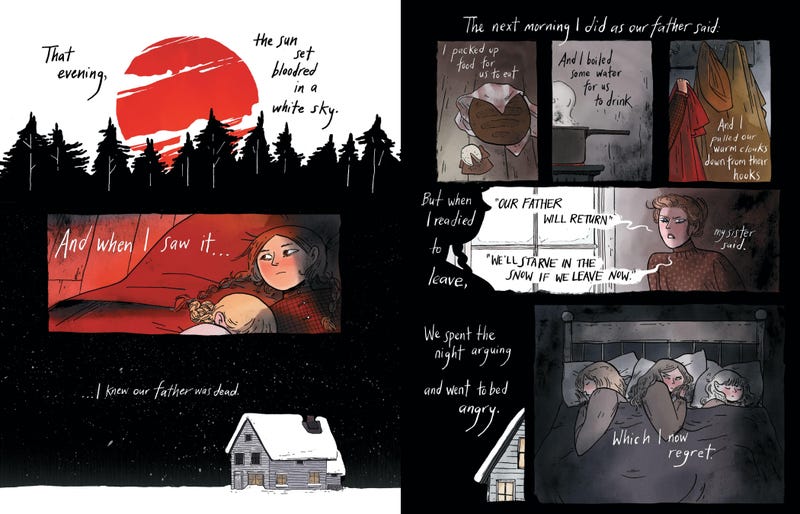 ---
Junk Trunk is an art blog based in Sri Lanka dedicated to promoting, and building a community for, artists all over the world. When they're not scouting out fancy art places and exhibits to visit, they're scouring the interwebs for artists with promise, and sharing their work with the world.
Find them here:
Facebook | Instagram | Twitter