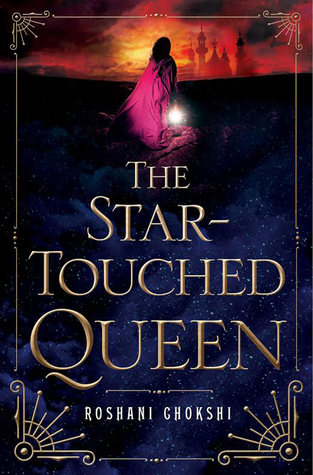 The Star-Touched Queen by Roshani Chokshi
Published by St. Martin's Griffin
Genres: YA, Fantasy, Mythology, Romance
For Fans of: The Daughter of Smoke and Bone, The Wrath and The Dawn, A Thousand Nights
My Rating: 3 stars out of 5
Fate and fortune. Power and passion. What does it take to be the queen of a kingdom when you're only seventeen?

Maya is cursed. With a horoscope that promises a marriage of Death and Destruction, she has earned only the scorn and fear of her father's kingdom. Content to follow more scholarly pursuits, her whole world is torn apart when her father, the Raja, arranges a wedding of political convenience to quell outside rebellions. Soon Maya becomes the queen of Akaran and wife of Amar. Neither roles are what she expected: As Akaran's queen, she finds her voice and power. As Amar's wife, she finds something else entirely: Compassion. Protection. Desire…

But Akaran has its own secrets — thousands of locked doors, gardens of glass, and a tree that bears memories instead of fruit. Soon, Maya suspects her life is in danger. Yet who, besides her husband, can she trust? With the fate of the human and Otherworldly realms hanging in the balance, Maya must unravel an ancient mystery that spans reincarnated lives to save those she loves the most. . .including herself.

A lush and vivid story that is steeped in Indian folklore and mythology. The Star-Touched Queen is a novel that no reader will soon forget
---
When you look at something through tinted glasses, you lose a lot of color.
I have been looking forward to this book for a while. A YA fantasy novel steeped in Indian mythology? I needed to get my paws on it. Stat. And when I finally did get my hands on this, it was as if the Heavens opened up. I could hear the chorus of angels singing in my ears.
And it was painfully loud when that beautiful song slowly faded into the background.
Sigh.
I'm not gonna lie, I was disappointed by this.  The early review were rave pieces – people gushing about the exquisite writing and the fantasy elements. And I'm not going to lie – the writing was beautiful. Almost… too beautiful. Purple prose beautiful. Yeah.
I'm a sucker for lyrical, evocative prose. Just look at how much I adored E. K. Johnston's A Thousand Nights. But the thing with pretty prose is that, if you overdo it, you end up muting everything else. And that's what Chokshi did. The prose was overwhelming – it was too rich. And sometimes it didn't make sense. I mean, "trees like cursive script"? "Mushrooms the color of bodies"? Because that makes sense?? Lyrical prose is great, but sometimes simplicity is the way to go. Not everything has to be covered in glitter and honey. Because when you drench every word, every sentence, with honey and grandeur, what separates the mundane bits from the magical ones?
In this sea of saccharine text, a lot of the emotion got drowned out. I couldn't understand what made Maya's love for Amar so special because she used the same amount of passion, the same cadence in her words, to you know, describe how she felt about a horse. The levels of passion were monotonous. Any time Amar and Maya were intimate – physically or otherwise – it sorta… fell flat. Like, I wanted to care. I really, really wanted to. But I didn't.
On a similar note, Maya and Amar had absolutely no foundation. I mean, obviously I'm in the minority here, but UGH. I could not ship this. On his part, Amar was in love with her from the very beginning. Maya took a little time, but WE SAW NONE OF IT. I wouldn't call it insta-love, for reasons that'll become clear once you read the book, but this was somehow worse. Yes, worse than insta-love. Because it was a love that grew on one side, and behind a curtain. And for a book with a plot so tightly wound with romance, this was really weird. Like, why.
I can't complain too much about the world-building. There wasn't much of a world to build, if I'm being honest. It was okay. I'd have liked to see more shaping and structure, but yeah. It was okay.
One thing I'll give Chokshi is that this book was extremely imaginative. There were giant talking elephants and naginis and yakshinis and trees with fruit that looked like gemstones. And I loved how creative it was. The sense of magic was definitely there, and it was much appreciated.
If you're a desi going into this, then I can definitely tell you that'll you enjoy all the Indian mythology and phrases. It's gonna have little pieces of home in it, that you're just gonna love. The names of the mythological creatures, the saris and the singular mention of "The City of Lanka" had me squeeing.
All in all, The Star-Touched Queen was an alright book. A run-of-the-mill fantasy/mythology novel about believing in your own power and in true love. As one of my most anticipated books of this year, it was kind of disappointing. But if you're looking for a light fantasy read with pretty pretty prose, then I recommend.