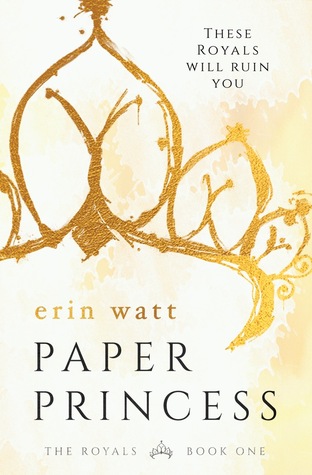 Paper Princess by Erin Watt
Published by Everafter Platinum
Genres: NA, Romance, Contemporary
For Fans of:  Angsty romances, Soap operas, good fanfic
My Rating: 4 stars out of 5
From strip clubs and truck stops to southern coast mansions and prep schools, one girl tries to stay true to herself.

These Royals will ruin you…
Ella Harper is a survivor—a pragmatic optimist. She's spent her whole life moving from town to town with her flighty mother, struggling to make ends meet and believing that someday she'll climb out of the gutter. After her mother's death, Ella is truly alone.

Until Callum Royal appears, plucking Ella out of poverty and tossing her into his posh mansion among his five sons who all hate her. Each Royal boy is more magnetic than the last, but none as captivating as Reed Royal, the boy who is determined to send her back to the slums she came from.

Reed doesn't want her. He says she doesn't belong with the Royals.

He might be right.

Wealth. Excess. Deception. It's like nothing Ella has ever experienced, and if she's going to survive her time in the Royal palace, she'll need to learn to issue her own Royal decrees.
---
Short review, 'cause I seem to have misplaced my groove.
This seems to be the running theme with most of the reviews I've read about this book, but I did NOT expect to like this.  But I think that my newly discovered love for Jane The Virgin and Telenovela may have sorta rekindled my weakness for soap opera drama, because I found this entertaining as heck.
This was my first foray into NA (I've been meaning to pick up some Leah Raeder, but I just haven't got around to it. Shut up), and  I've gotta say, if all NA books are written this way, I think I might like it?
The entire thing reads like good fanfiction. And if you think that's an insult, you need to get the hell out of my sight because I do not need this kind of negativity in my life. It wasn't great, highbrow literature, and it could get overly angsty from time to time – but I think that was the appeal of the book. At least, for me. I've been going through a pretty hardcore reading slump, and this was exactly the sorta thing I needed to break it. Something entertaining, that didn't take itself too seriously.
Paper Princess did a lot of things right.
The main character, Ella, was very likable. She was a fighter, she refused to stay down when kicked to the ground, and I liked her. The males, however… they were sort of problematic faves. Look, I can appreciate a good alpha male. Adam Hauptman, for instance. Only violent when he has to be, and never ever a douchebag. The Royal Boys, were sorta the opposite of the kind of of alphas I like. They were constantly violent and has severe douchebag tendencies. But I felt like the authors did a pretty good job of making their faults seem redeemable and believable. Their backstory worked, and their complexes worked, so I didn't find myself rolling my eyes at this and going, "Yeah, sure that makes everything so much better." If I'm being honest, I actually found myself liking the Royal boys towards the end.
Except Gideon. I have some REALLY shady feelings about Gideon. But that's not important.
The book also had a female relationship. Yay! Ella and Valarie had a pretty solid and believable friendship, which was great because otherwise this book would have been one giant sausage fest. The book also tackled date-rape and slut shaming, and honestly, I think it did a decent job.
I'm going to end this now, because I haven't blogged in a while and I feel like this entire thing is really scattered. But before I go I will say this – Paper Princess is not, y'know, great lit. It's a fun, easy, ENTERTAINING read and I honestly really enjoyed it. So much so that I actually can't wait for the next book.
PS: I'm so sorry about the weird hiatus. Reading slumps suuuuuuck.