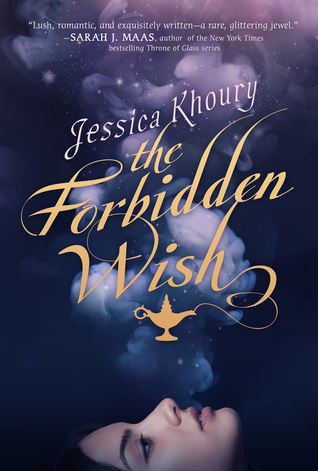 The Forbidden Wish by Jessica Khourey
Published by Razorbill
Genres: YA, Fantasy, Retelling
For Fans of: Aladdin, A Thousand Nights, The Wrath and The Dawn, DJINN!
My Rating: 4.5 stars out of 5
She is the most powerful Jinni of all. He is a boy from the streets. Their love will shake the world…

When Aladdin discovers Zahra's jinni lamp, Zahra is thrust back into a world she hasn't seen in hundreds of years — a world where magic is forbidden and Zahra's very existence is illegal. She must disguise herself to stay alive, using ancient shape-shifting magic, until her new master has selected his three wishes.

But when the King of the Jinn offers Zahra a chance to be free of her lamp forever, she seizes the opportunity—only to discover she is falling in love with Aladdin. When saving herself means betraying him, Zahra must decide once and for all: is winning her freedom worth losing her heart?

As time unravels and her enemies close in, Zahra finds herself suspended between danger and desire in this dazzling retelling of Aladdin from acclaimed author Jessica Khoury.
---
Well Ali Baba had them forty thieves and Gabrielle had ALL THE FEELS
Aladdin is probably my favorite Disney prince. Second only to Flynn Ryder (for reasons that should be obvious to you by now). Phoebus is a close third. Love me some Phoebus. Mmm.
Where was I?
Oh, right. Aladdin.
This book, as you may have already figured out from the blurb, is a retelling of Aladdin. If you're not familiar with the original story, you're probably familiar with the Disney version. And if not… what kind of sad life do you live?
My issue with retellings is that, often, they're not retellings. They're the same exact story we've heard before with, perhaps, a love triangle slapped into it. *cough* The Wrath and The Dawn *cough* I mean, what's the point? If I wanted to read the same story, I'd just pick up the book and reread it. Your retelling needs to offer me something new – they need to light my imagination on fire. They need to say, "Hey, look at me. I'm different and worth your time".
The Forbidden Wish was absolutely one of these books.
I'm going to start off by saying that this book is very romance-heavy. And that's usually a put-off for me. But lemme tell you, it didn't bother me one bit. Because here's the thing – the plot had a lot more to offer than romance. There was a lot of it, and I was shipping them from the get-go, but I never once felt like Zahra's and Aladdin's relationship was the most important thing in the story.
There were tons going on. Evil adviser trying to take over the throne. Douchey Prince just being a general asshole to everyone. The Hero's thirst for revenge. The Heroine's guilt and determination to win her freedom. Evil, immensely powerful djinn trying to murder everyone.
You see? A lot.
Another thing to love about this book was all the girl power. There was absolutely no female-female hate in this book, which was such a delight to see. The girls, and there were many of them, respected and supported each other. Zahra  even spent most of her time addressing her "Habiba". Such a treat. So nice.
Zahra, the genie in this version, was amazing. I loved her. She was tough, smart, funny and incredibly vulnerable. She hurt, and she doubted and she did things she wasn't proud of. And she loved. She loved deeply and fiercely and was loyal to a fault. And even though she fell in love with Aladdin, her actions were never purely driven by her love for him. When she questioned her need for freedom, it was logical – not simply the doubts of a love-sick damsel. And I loved her more for it.
Aladdin was very different from the street rat we all know and love. Oh, he's still a street rat alright, but he's a street rat with a dark thirst for revenge. He's also an unapologetic flirt, who maaaaaay have needed to go to a few AA meetings if you catch my drift. And he was charming as hell. No, really. Aladdin was as sweet as he was sly – and you know how much I love characters like this.
I have a problem. Sue me.
There's not much more I can say about this book without sounding like a gushy loon. The story was great, the characters were delightful,  the world building and the writing were fantastic. I especially liked how Zahra kept talking to her "Habiba". It gave me a sense of immersion that I really really loved.
The only complaint I had about this was maybe the ending. It was a little rushed, I felt, and that was such a shame. I had to dock half a star.
But beyond that, this was brilliant. It was new and exciting and WHOO! Girl power! Read it. Even if you're like me and dislike overly romance-y books. Trust me, the loveth do not taketh over.