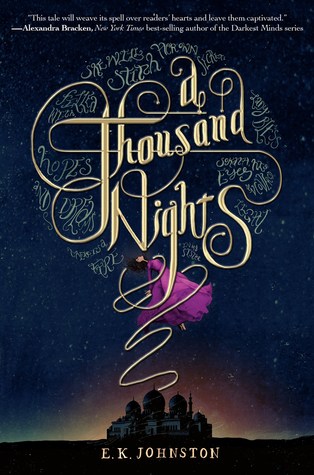 A Thousand Nights by E.K Johnston
Published by Disney Hyperion
Genres: Fantasy, YA, Retelling
For fans of: Diverse novels, POC heroines, Leigh Bardugo, Sarah J Maas
My Rating: 4.5 stars out of 5
Lo-Melkhiin killed three hundred girls before he came to her village, looking for a wife. When she sees the dust cloud on the horizon, she knows he has arrived. She knows he will want the loveliest girl: her sister. She vows she will not let her be next.

And so she is taken in her sister's place, and she believes death will soon follow. Lo-Melkhiin's court is a dangerous palace filled with pretty things: intricate statues with wretched eyes, exquisite threads to weave the most beautiful garments. She sees everything as if for the last time. But the first sun rises and sets, and she is not dead. Night after night, Lo-Melkhiin comes to her and listens to the stories she tells, and day after day she is awoken by the sunrise. Exploring the palace, she begins to unlock years of fear that have tormented and silenced a kingdom. Lo-Melkhiin was not always a cruel ruler. Something went wrong.

Far away, in their village, her sister is mourning. Through her pain, she calls upon the desert winds, conjuring a subtle unseen magic, and something besides death stirs the air.

Back at the palace, the words she speaks to Lo-Melkhiin every night are given a strange life of their own. Little things, at first: a dress from home, a vision of her sister. With each tale she spins, her power grows. Soon she dreams of bigger, more terrible magic: power enough to save a king, if she can put an end to the rule of a monster

---
I'm not going to lie to you, I was very skeptical of this one, but I'm pleased to report that I ended up loving it.
A Thousand Nights is a retelling of "One Thousand and One Nights", but not in the strictest sense. I mean, sure, there are a lot of similarities, but the overall story they tell is altogether very different. Where One Thousand and One Nights can be considered a stories within a story, this one if more about the power of stories. If that makes sense.
A Thousand Nights is slow paced and heavy, meaning to say that it doesn't have a lot of action in it. About 90% of this book is spent following the UNNAMED heroine as she mentally fights to survive. Its complex and almost lyrical prose make it seem much more mature than it's YA categorization.
This book is a beautiful piece of subtle feminist-writing. It talks about the power of women. It takes the stereotypically-feminine characteristics that men dismiss as frivolous and shows us their worth. It talks about sorority and solidarity among women in men-driven communities. It's about sisterly love and motherly affection. And it all comes together seamlessly and subtly, like a thousand thread-count sheet woven with feminism.
Throughout the course of the novel, Lo-Melkhiin is the named character. A few others have titles, but he's the only one whose name we ever learn. And in that sense, Johnston makes this this not only about women, but also about the anonymous (see: unnamed heroine).
I wish I could say more about this books, but I don't think I can. Not without spoiling, anyway. All I can tell you is to read this. Even if it seems slow and dense, just read it. It's worth it.
---
This book was read as part of the #DiverseReadsChallenge. The subject for January is Ethnic Diversity.