First of, I need to apologize for the hiatus we went on November. It was an accident, I swear. If I'd known I was going to be too darned busy to blog, I'd have set up a queue or something. Or I'd have informed you guys. But life (and assignments) happened, and I had to neglect the blog for a month. I apologize for not saying anything.
Now that we've gotten that out of the way, Top Ten Tuesday is here again! Today's topic is Top Ten Books We Read In 2015. Or, as I like to call it, "If You Only Read One Book This Year, Make It One Of These"
---
Gabrielle's picks
1. Uprooted – Naomi Novik
This book was magical. It was sent from the Heavens to bring joy to the hearts of YA and fantasy readers. I've read this three times now, and I still can't get enough of it. If you go through the review that I posted when I first read it, you could probably have a blast tallying the number of times I used the word "delightful" to describe this brilliant piece of fantasy writing.
If you're looking for one really good fantasy novel to read before the year ends, then let this be the one. It's got all the magic and wonder of your first fairytale back when you were a kid, and it's so wonderfully original. The protagonist is charming and brave and strong, and the male lead is a grumpy old-man-type. WHAT MORE COULD YOU WANT?
2. Why Not Me? – Mindy Kaling
 If you've read Kaling's first book*, Is Everyone Hanging Out Without Me and enjoyed it, I can confidently tell you that this one is better. In her debut, she was still trying to get people to like her. She was telling you funny stories about her beginnings, her childhood, her start as a comedian, etc. But in Why Not Me, Mindy knows who she is. WNM is just as funny – Funnier, actually – than IEHOWM, and hella more personal.
If you're looking for an easy, quick read that'll have to giggling to yourself in bed, I definitely recommend this. Anything Mindy had a hand in creating is bound to be a treat.
Note: If you don't like Mindy Kaling, what's wrong with you? Who hurt you?
3. Saga – Brian K. Vaughan (Writer) , Fiona Staples (Illustrator)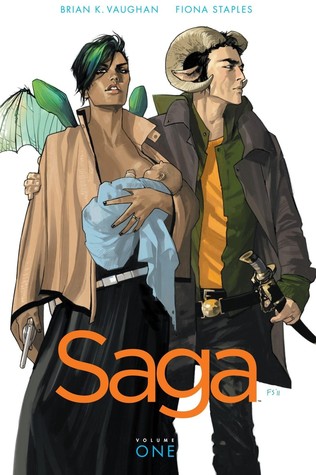 I'm cheating a little bit with this one, because I'm including all five volumes as one novel. I do what I want. Sue me.
Together, Vaughan and Staples have created an extremely compelling, insanely addictive story-line. Everything about this series is brilliant – plot, characters, atmosphere. And the artwork? It's stunning. It's full to the brim with a lot of weird, crazy crap, but it works. It_all_works.
If you like graphic novels, epic space sagas, and characters so cool you wish you could be them, then this is definitely for you.
4. Chaos Walking – Patrick Ness
Patrick Ness and I have a funny relationship. Every single one of his books that I've read has made me bawl like a baby, and yet, I keep coming back for more. It's so weird.
I was late to the Chaos Walking party, but I'm so glad I got to it at all. These books were wonderfully written and beyond emotional. Ness has such a gift with creating characters that make you feel ALL THE EMOTIONS.
This ruined me. You should let it ruin you, too.
5. Soul Eater – Eliza Crewe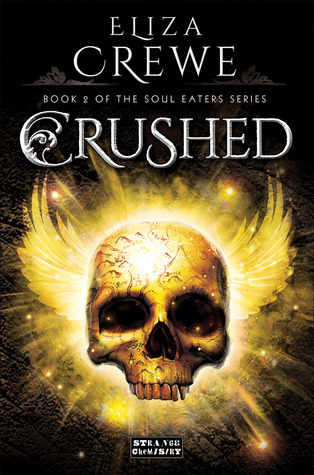 Do you like tough, smart, funny-as-heck heroines? Do you like anti-hero protags that put themselves above others and struggle with their moral compasses? Well then, this series is definitely for you.
Meda will have you grinning from ear to ear with her snarkastic, hilarious narrative. There's no sappy romance, no icky-love triangles, no boo-hoo woe-is-me heroine. Just a demon pretending to be a saint while trying to get away from a bunch of religious do-gooders. It's a blast.
---
Manushi's picks
6. Veronica Mars: Mr. Kiss and Tell – Rob Thomas
The return of Logan Echolls, a puppy, good ol' cynicism, an intriguing mystery and V's sass.
What more could a marshmallow ask for ?
7. The Graveyard Book – Neil Gaiman
" It takes a graveyard to raise a child"
This book was an absolute treat.
Every detail starting from the Tim Burton movie mood, to the writing, to the the wonderful protag that is Bod.
[ and, I adore the origin of his name – " He looks like nobody but himself ", " Then nobody it is" ]
8. First Grave To The Right – Darynda Jones
First Grave is a fun read.
Stuffed with quick wit, sarcasm, a fabulous heroine ( who just might be Veronica Mars' and Susannah Simon's secret love child ), and a smoking hot mysterious love interest.
9. NOS4A2 – Joe Hill
I laughed, I bawled.
My spectrum of emotions reached a new level of crazy.
The story was disturbing, albeit strangely touching.
10. The Silkworm – Robert Galbraith
J.K. Rowling is the reigning queen of weaving elaborate mysteries.
The Silkworm was a gripping read, with a handful of riveting characters, and eloquent writing.
J.K.Rowling can do no wrong.
---
That's our list done. What were some of the best you guys read this year? Do share.