With the exception of that one memoir, and a couple comic books, I've read nothing but SPN, horror and thriller books this entire month. Why? Because it's my little way of celebrating Halloween, to make up for the fact that I've never been trick or treating my entire life. (;__;)
Somewhere in the middle of all this Halloween reading, it occurred to me that I could compile a list of a few creepy books for you guys to check out during Horror Week. And so, I present to you:
---
I've mentioned before that I don't scare easily, so please don't hate me if any of these books spook you more than I said they would.
The Madman's Daughter – Megan Shepard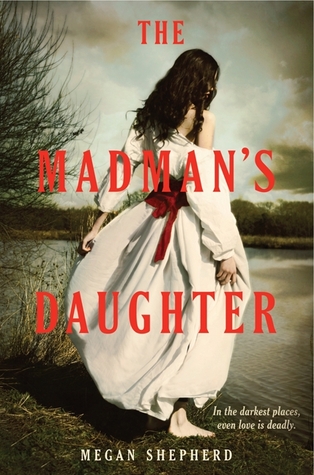 My rating: 3.7 stars
This is a retelling of H. G. Wells' 1896 Sci-Fi novel, The Island of Doctor Moreau. (How many Orphan Black fans got the teensiest bit excited?) The trilogy tells the story of Doctor Moreau's daughter, Juliet, but only the first book is based off The Island of Doctor Moreau. The rest are retellings of  Jekyll and Hyde, and Frankenstein.
This isn't insanely scary, but there are moments when it gets very messed up. There's a bit of a lag in the middle of the book, but the premise and the writing completely make up for that. Shepard does a wonderful job of creating a multi-dimensional villain. You know he's crazy, you know he's sick in the head, but when he explains his logic, there's a part of you that can't help but think, "… he does have a point."
I can't speak for the rest of the trilogy, because I haven't read the other books as yet, but I definitely recommend this one – especially if a spooky retelling is what you're looking for.
Alice – Christina Henry
My rating: 4 stars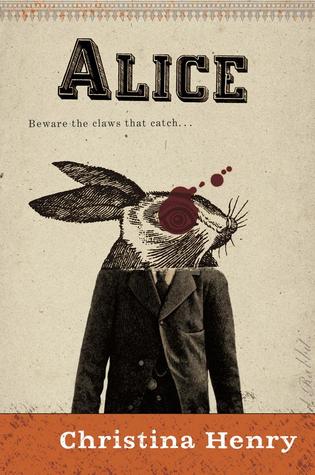 Another retelling, because these are all the rage this year, for some reason.
I was pleasantly surprised by Alice, and ended up liking it much more than I thought I would. It's dark and gory and all kinds of disturbing.
Trigger warning: Stay away from this if you are bothered by sexual violence of any kind. This book has a lot of it, which is what makes it so creepy. This is not the Alice in Wonderland you grew up with. This is Alice in Wonderland on some kind of nightmare-crack.
It's not scary, per se, but it is wonderfully dark. Perfect for some halloween reading.
NOS4A2 – Joe Hill
My rating: 5 stars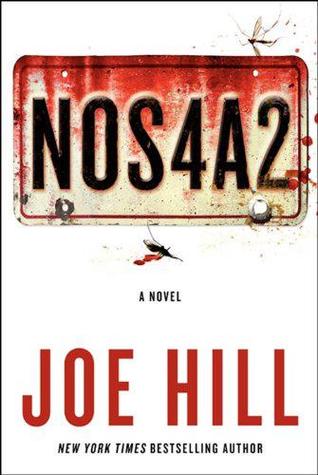 Have you ever watched Nightmare Before Christmas? Well, this is like that, except in book form. It's also… less fun and very disturbing. Okay, fine, the only thing they have in common in Christmas.
NOS4A2 is an extremely touching, very creepy, incredibly depressing and all kinds of wonderful. Probably Joe Hill's best work.
If you're cool with having your heart ripped out and torn to shreds by fictional characters, then I definitely recommend this one.
The Wasp Factory – Iain Banks
My rating: 3 stars
Lots of people really loved this one, so my comparatively low rating is a bit of an unpopular opinion. I loved this right until I called the plot twist and was then disappointed by the ending.
The conclusion somehow made me feel like the entire story was disjointed – Like there were two stories that needed to be told and they just weren't meshing the right way. But honestly, those were my only problems.
So, don't let my nitpicking deter you. This book is messed up – which, let's face it, is exactly what you want on Halloween. Frank is a great, interesting, if sometimes very disturbing, character. His story and his narrative voice are crazy compelling.
Slasher Girls and Monster Boys – April Genevieve Tucholke
My rating: 4 stars
Not interested in a single, long, horror-ific tale? No worries. Slasher Girls and Monster Boys is just the thing for you. I just finished reading it* myself, so I haven't had as much time to let this simmer in my brain, but I can assure you that it is, in its entirety, a very compelling read.
There were three stories on there that weren't my cup of tea, but barring those, I absolutely loved this anthology. It's a compilation of strong, well-written stories featuring strong, well-rounded characters. The author line-up should excite you, because honestly, they all deliver.
*The link will take you to the story-by-story review I wrote on GR. Check it out if you're interested in finding out exactly what this anthology has to offer.
---
HONORABLE MENTIONS
A few books that didn't make it on my main list for the following reasons:
They're short
They're old and popular, so you may have already read them
I wouldn't necessarily recommend them as Horror Week reads, but I'm mentioning them in case you're interesting.
The Magic Shop – H. G. Wells
3 stars

A man and his son wander into a little magic shop, where the owner's tricks seem to be a little too real for comfort
The Possessions series – Nancy Holder
3.5  stars
Lindsay moves to a prestigious boarding school where she learns that the mean girls might be scarier than she first realized. This is Gossip Girl on crazy pills on halloween.
The Shining – Stephen King
4 stars

Does this even NEED a summary?
The Music of Erich Zann – H. P. Lovecraft
3 stars
A man tells the tale of how he met Erich Zann, a gifted musician with a secret to hide.

In The Miso Soup – Ryu Murakami
2 stars

The New Year is dawning, and tour guide Kenji is hired to show Frank, an overweight American Tourist, around Tokyo's sleazy nightlife. As he spends more and more time with Frank and witnesses the man's strange behavior, Kenji can't help but suspect that Frank might be the serial killer that's been terrorizing the city.