Is it weird that the first book tag I decide to take part in is one I haven't actually been tagged in? It is? Well, in my defense, Ranu @ The Araliya Bookshelf said anyone could participate. So there.
---
1. HOW DO YOU KEEP TRACK OF YOUR TBR?
Goodreads, obviously. I do have a few TBR lists written down on various notebooks, but these all eventually make their way onto my TBR shelf on Goodreads. I've never been a one-notebook kind of girl, so Goodreads is kind of a god-send this way. Makes things so much easier for me. Still, I do have to go clean up by TBR list sometime. There are books that have been on there for years that I've kind of lost interest in.
2. IS YOUR TBR MOSTLY PRINT OR eBOOK?
Unfortunately for me and for bookworms everywhere – Books are expensive. If I had my way, I'd fill my home with beautiful hardbacks and stacks of paperbacks, but alas, I can't afford such an extravagant lifestyle. So, yes, my TBRs are mostly in eBook format. However, I will splurge on physical copies every now and again, if there's a book or a series I really like.
3. HOW DO YOU DETERMINE WHICH BOOK TO READ NEXT FROM YOUR TBR?
Hahaha. I love how this question assumes I actually have a process. Me! A choosing process. I can't stop laughing. Mostly I just pick what feels right to me in the moment. If I'm in the mood for something dystopian, I'll pick something dystopian. If I'm in the mood for horror, I'll pick horror. That's about as sophisticated as my choosing process gets, I'm afraid.
4. A BOOK THAT'S BEEN ON YOUR TBR THE LONGEST?
Wait, lemme check.
According to Goodreads, it's the sixth book in the Soul Screamers series. Damn. I really need to finish that series sometime soon. It's been years.
5. A BOOK YOU RECENTLY ADDED TO YOUR TBR?
I'm a little finicky about the books I add to any of my shelves. Which is why I have a "Maybe" shelf on Goodreads, in addition to the TBR one. All the books I'm not 100% I want to read go on that one. Goodreads tells me that the last book to go on my actual TBR pile is Y: The Last Man – The Deluxe Edition Book One, by Brian K. Vaughan, aka the genius behind SAGA. The last book to go on my Maybe shelf is Blackbirds by Chuck Wendig.
6. A BOOK ON YOUR TBR STRICTLY BECAUSE OF ITS COVER?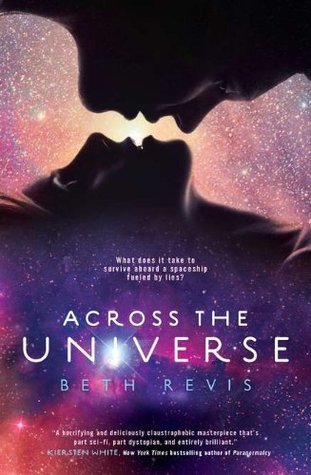 Let's be honest, I have a lot of these. I suffer from Pretty Cover Syndrome, and I'm thoroughly convinced that pretty covers are going to be the death of me. Still, there is one book that immediately comes to mind when you say, "Strictly because of its cover", and that is Across The Universe by Beth Revis. I actually don't care about this book. Sure, it's gotten decent reviews, and a decent overall rating. Sixteen people I follow/am friends with have read this book, and only three of them didn't love it. Three. Out of sixteen.
But for some reason, the blurb doesn't speak to me. Across The Universe is literally only on my TBR shelf because of its stunning cover. That is the only reason.
I mean, look at it. It's gorgeous.
7. A BOOK ON YOUR TBR THAT YOU NEVER PLAN ON READING?
You've probably already figured out the answer to this. Across The Universe. I have zero interest in this book. None. Zilch. Zip.
Knowing me, though, I might actually end up reading it sometime in the very distant future.
8. AN UNPLUBLISHED BOOK ON YOU TBR THAT YOU'RE EXCITED FOR?
If you'd asked me at the beginning of this month, I'd have said The Hollow Boy by Jonathan Stroud, or Why Not Me by Mindy Kaling. But they're both released now, and I've already read THB (The review for that's coming up in a few days).
So I'd say The Muse of Nightmares by Laini Taylor, The Shadow Queen by C.J Redwine, and Fire Touched by Patricia Briggs. All of these come out next year and the wait is a little bit torturous.
9. A BOOK ON YOUR TBR THAT EVERYONE HAS READ BUT YOU?
The Fifth Wave by Rick Yancy. I tried once, but it turned out that I wasn't in the mood for it, so I book it aside after the first chapter. I should really get to reading it before I watch the movie.
10. A BOOK ON YOUR TBR THAT EVERYONE RECOMMENDS TO YOU?
Mistborn by Brandon Sanderson. It's been recommended on twitter, it's been recommended on Goodreads, it's been recommended IRL. I just never seem to be in the mood for it. I really want to read it, though.
11. A BOOK ON YOUR TBR THAT YOU'RE DYING TO READ?
An Ember in The Ashes. Why haven't I read it yet? I DON'T KNOW.
12. HOW MANY BOOKS ARE ON YOUR GOODREADS TBR SHELF?
311.
And I'd just gotten it down to 290 last week. Sigh. There are some battles you just can't win, I suppose.
---
I'm tagging everyone who wants to do this. Have at it, guys.