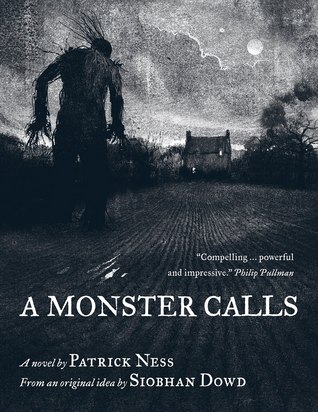 A Monster Calls by Patrick Ness
Published by Walker Books
Genres: Children's, Middle-grade, Paranormal
For Fans of:  Eren, The Chaos Walking, TFiOS, well-written books that emotionally compromise you
My Rating: 5 stars out of 5
The monster showed up after midnight. As they do.

But it isn't the monster Conor's been expecting. He's been expecting the one from his nightmare, the one he's had nearly every night since his mother started her treatments, the one with the darkness and the wind and the screaming…

This monster is something different, though. Something ancient, something wild. And it wants the most dangerous thing of all from Conor.

It wants the truth.

---
This book is evil and you should all read it.
Sometimes you need to know exactly what you're getting into before picking up a book. And in that vein – This book is about a little boy losing his mother to cancer.
There. You're prepared. You're welcome.
If you've read any of Patrick Ness's other books and decided that he's not your cup of tea, I'm going to have to ask forget you ever thought that. Because here's the thing about Patrick Ness – none of his books are alike. I'd heard this a lot before, back when I was still reading The Chaos Walking, but obviously I was a little bit skeptical. But now that I've read A Monster Calls, I think there's a lot of truth to what I've heard.
The writing in A Monster Calls is so different from that of The Chaos Walking, that for a moment, I actually forgot they were written by the same author. This isn't Ness' story – not all of it, at least. The original idea for A Monster Calls came from the mind of an author named Siobhan Dowd who, unfortunately, passed away in 2007. I've never read any of her books before, but I'm fairly certain Patrick Ness did her proud with what he was able to do with her story.
While I haven't experienced parental loss (thank God), this book still managed to punch me in the gut on some very personal levels. Conor's grief, his anger, his helplessness throughout the course of this novel were all so palpable and so very real – nothing about this book felt forced or cliched. Patrick Ness does great things with a reader's emotions in his hands. He creates characters you care about, and makes them feel things you can relate to, even if you can't understand the situation they're in, yourself. In the short time it took me to read this book, I was Conor. I felt everything he did, and it was oh so painfully real.
I think I've mentioned before that I love authors who don't patronize children when they right middle grade books. Patrick Ness does this by giving us truth – and that's what makes this book so appealing for older readers. It's so freaking honest. He doesn't try to soften blows for the younger audiences, he doesn't try to mask the heavy themes. It's all there, raw, laid out for all to see. I absolutely adored this.
A Monster Calls might not be everyone's cup of tea. Especially if you're not a fan of books that will make you bawl on the floor and want to hug your mother (or kid, if you are the mom).  But I loved how disturbing and unpredictable this was. The story absolutely does not go the way you think it will. It's dark, chilling, and downright awful, and it was one of the most moving books I've ever had the pleasure of reading.
It broke my heart in half, and even though I don't think I have the stones to ever read it again, I'll remember A Monster Calls for a very long time. I sincerely hope Ness continues to write more gems like this one – preferably ones that don't have me sobbing in bed for half an hour.