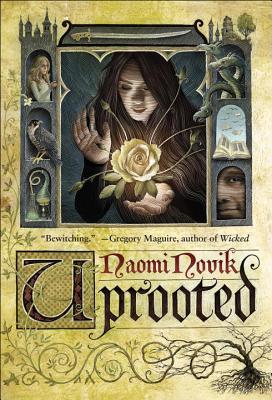 Uprooted by Naomi Novik
Published by Del Rey
Genres: Fantasy, Romance, NA (?)
For Fans of: Cruel Beauty, Fairy tales, grumpy-old-man-type heroes, wonderfully witty and endearing heroines, DRAGONS and MAGIC. Bottom line? I'd GIVE THIS BOOK TO EVERYONE.
My rating: 5 stars out of 5.

"Our Dragon doesn't eat the girls he takes, no matter what stories they tell outside our
valley. We hear them sometimes, from travelers passing through. They talk as though we were doing human sacrifice, and he were a real dragon. Of course that's not true: he may be a wizardand immortal, but he's still a man, and our fathers would band together and kill him if he wanted to eat one of us every ten years. He protects us against the Wood, and we're grateful, but not that grateful."

Agnieszka loves her valley home, her quiet village, the forests and the bright shining river. But the corrupted Wood stands on the border, full of malevolent power, and its shadow lies over her life.

Her people rely on the cold, driven wizard known only as the Dragon to keep its powers at bay. But he demands a terrible price for his help: one young woman handed over to serve him for ten years, a fate almost as terrible as falling to the Wood.

The next choosing is fast approaching, and Agnieszka is afraid. She knows—everyone knows—that the Dragon will take Kasia: beautiful, graceful, brave Kasia, all the things Agnieszka isn't, and her dearest friend in the world. And there is no way to save her.

---
I haven't been this delighted by a book in a long time.
No, seriously. If you were to take every single praise-word in my vocabulary, and smush them together to try and describe how much I loved this book, you wouldn't even come CLOSE to my actual feelings. I even took the time to try and draw how I felt. That should say something.
Uprooted isn't a Beauty and The Beast retelling (well, as far as I'm aware of anyway), but there were a few elements in the beginning of the book that reminded me of Cruel Beauty and ACoTAR. It was an entirely different story altogether, but I can tell you without a shred of doubt that Uprooted was better than both the aforementioned books. Combined.
Uprooted was beautiful. It was smart, and funny, and honest, and descriptive, and reading it gave me joy like you wouldn't believe. When I picked this up, I had just finished Patrick Ness' Chaos Walking trilogy, which had left me emotionally crippled. I figured, hey, fantasy tale about a Wizard and a young girl? This should help ease some of the heartache.
Boy, was I wrong.
Because Uprooted took my crippled, emotionally mangled self and smacked me upside the head with it's wonderfulness. It was so frick fracking charming that, reading it, I was hit with magic I hadn't felt since I was a little girl reading fairytales.
Ordinarily, I would be gushing at this point – giving you spoilers left, right, and center. But because I so strongly believe that everyone needs to read this little gem, I'm not going to do that. Today, all you get is the bare minimum of details. Deal. With. It.
The world-building, I thought, was great. Novik's writing is descriptive, without being purple-prose-y. It was so easy to visualize the world we were in. The Wood was the absolute best part – and the mystery surrounding it was so well done. It was smart and unpredictable and just… ugh. So good.
I adored Agnieska and the Dragon. Agnieska was witty, clumsy, wilful and just an absolute delight of a heroine. She made mistakes and bumbled around a lot, but she had the best of intentions. She was just such a breath of fresh air, heroine-wise, because she was badass in her own right, but also still very vulnerable.
The Dragon, was a grumpy-old-man type. And we all know how much I love those. He was gruff and stoic and cranky to boot, and he contrasted wonderfully next to Agnieska. Their dynamic was equal parts sweet and spicy, with just a slight dash of sour. The love/hate thing they had going on worked on all levels, and made for a lot of entertaining moments, and some very sweet ones.
Normally, I like to give myself a few months before I reread a book, but I loved this one so much that I might pick it up again as soon as next week. And I hope my enthusiasm for this book is enough to get people to pick it up, because it was truly a delightful gem of a book, and I thank all my lucky stars that I decided to give it a shot. It was de-freakin'-lightful.