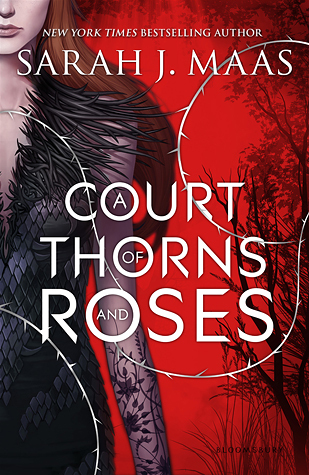 A Court of Thorns And Roses by Sarah J Maas
Published by Bloomsbury Children's
Genres: Fantasy, YA, NA, Retellings, Romance
For Fans of: Beauty and The Beast, the Throne of Glass series, Cruel Beauty
My rating: 4 stars out of 5
When nineteen-year-old huntress Feyre kills a wolf in the woods, a be
ast-like creature arrives to demand retribution for it. Dragged to a treacherous magical land she only knows about from legends, Feyre discovers that her captor is not an animal, but Tamlin—one of the lethal, immortal faeries who once ruled their world.

As she dwells on his estate, her feelings for Tamlin transform from icy hostility into a fiery passion that burns through every lie and warning she's been told about the beautiful, dangerous world of the Fae. But an ancient, wicked shadow grows over the faerie lands, and Feyre must find a way to stop it . . . or doom Tamlin—and his world—forever.

---
This review has been written under the influence of mild cold medication. 
I'm not going to lie to you. This wasn't perfect, and that's the only reason it's not getting anything higher than a 4 star rating. Okay, maaaaaybe a 4.25. But I won't budge any more than that.
I am also not going to compare ACoTAR (wow, that's a mouthful) with Cruel Beauty. Okay that's a lie, I am. I just won't do it too much, because these are two very different books, imo.
A Court of Thorns and Roses is, if my sources aren't lying scumbags, based on these three stories:
1) Beauty and The Beast.
Um, duh.
2) Tam Lin.
It's this legendary Scottish Ballad about this man named Tam Lin whose true love saves from the Queen of Fairies
(Tom-A-Lone from Cruel Beauty flashbacks, anyone?)
3) East of the Sun, and West of the Moon. 
A Norwegian Fairy tale, according to Google. If you're into mythology, this fairy tale is eerily similar to the story of Eros and Psyche (Cupid and Psyche, if you prefer) in Greek mythology. Personally, I thought there were more similarities to Eros and Psyche's tale than there were to East of the Sun and West of the Moon, but that's just me.
I liked ACoTAR more than I expected to, especially considering that during the first few chapters of the book, I was comparing it to Cruel Beauty in the back of my mind. It didn't last long, though, because as I said before – these are two very different books. If Cruel Beauty was poetic, a sweeping, sometimes tragic, ballad of an Epic Love – then ACoTAR was the start to an action-packed, romantic Faerie saga, just the kind of story Sarah J Maas is famous for.
I gave Cruel Beauty a solid 4 stars. I enjoyed it, but it wasn't without its faults. I found myself skimming paragraphs from time to time, the world-building was dissatisfying, and the romantic elements were just… too much for me.
ACoTAR was very well written. Sarah J Maas surprised me when I saw that the book had been written in the first person, and in the best way. She does it well. It was easy to see things through Feyre's eyes, and I quite liked that. I drank in every sentence, even in my feverish state.
The world-building… well, it was a little sub-par, if we're being honest. I expected the kind of world-building I'd gotten used to with the Throne of Glass series, but I didn't get it. The descriptions of Feyre's village, Tamlin's manor and even Under The Mountain were decent, don't get me wrong, but they were… lacking. Flimsy, even. I wanted a world I could envision as my eyes scanned the page, dammit. What I got was a general idea of Feyre's surroundings. I'm hoping this will get better with the next book. We'll see.
I really did love the romance in this book. I'm sure some might argue that it was a little to intense, but I thought it was very well done. Though I adored the banter that Nyx and Ignifex shared, my biggest issue with CB was the insta-love with Shade and the slight sappiness to the romance, when the blurb promised me passion and seduction. Nyx and Ig were a fantastic couple, but their romance was a little too sugary for the dark world they lived in.
There was nothing sugary about Feyre and Tamlin's love. Their love was fire, heat, spice and teeth. With maybe just a little bit of claws and sweet. (Yes, I am related to Dr. Seuss. How'd you guess?) I loved their transition from bitter strangers, to cautious friends, to fiery lovers who would do anything to save the other. Their love scenes were something better suited for a NA book and I'm not going to lie to you and say they didn't have me fanning my face from time to time.
And I've got a fever.
Now for the problems.
Besides the disappointing world-building, I wasn't a big fan of how watered down The Beast was. I mean, the whole point of Beauty and The Beast was that the heroine – the gentle, kind, loving and lovely heroine – was able to fall in love with AN ACTUAL BEAST. I mean, not a literal animal, but you know what I mean.
Tamlin was a lot of things, but he wasn't a beast. Sure, he could take the form of a beast, but he did so sparingly. 98% of the time, he was a beautiful man with a golden masquerade mask magically superglued to his face. He wasn't even a beast in spirit, save for one *ahem* interesting night when instincts and magic took control over his actions. Besides that, Tamlin was a bit of a sweetie. Shy, strong and stoic – and just a little bit socially awkward.
Rhysand was more of a beast than Tamlin was, and unless there's going to be a goddamned love triangle in the sequel, I'm don't know what the point of that was.
(Please, please don't let there be a love triangle in the sequel. PLEASE)
But you know what really bothered me enough to snatch away that final star? The action.
Or lack thereof.
I mean, the biggest obstacle in Feyre and Tamlin's love story is that a big bad witch who hates humans to her very core is lusting after him, and wants to make him her personal love slave (which, ew). And the only one who can save him is, who'd have guessed it, Feyre.
That's all well and good, but it made for a slightly bland climax. Evil witch promises to break the spell on Tamlin and his peoples if Feyre completes three impossible tasks or answers a riddle (Hercules? Rumpelstiltskin? Baba Yaga? This book was a mishmash of different stories, lemme tell you.)
And yeah, it was entertaining and stuff. But I was expecting so much more, you know? There were even bits in the middle where the action lulled a tad. They were interesting – I just wanted more.
The only reason I'm not as disappointed with the lack of action is because – and I'm basing this off everything I've seen in the ToG series – I'm almost definitely certain that it just means that Maas is going to give us some pretty sweet action stuffs in the books to come.
I hope.
Don't let me down, Maas.
So, TL;DR? ACoTAR was an entertaining read and even though I wasn't blown away by it, I enjoyed it immensely. Now, if you'll excuse me, I'm going to write myself a little note on my notepad reminding me to borrow (steal) Beauty and The Beast from my cousins and watch it tomorrow.