An Ember in the Ashes by Sabaa Tahir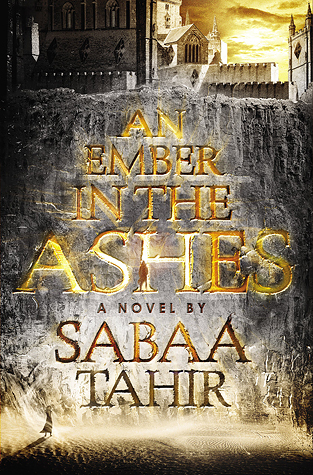 Expected Publication: April 28th 2015 by Razorbill
Genres: Fantasy, Dystopia, YA
Shelved as: GIVE ME
LAIA is a Scholar living under the iron-fisted rule of the Martial Empire. When her brother is arrested for treason, Laia goes undercover as a slave at the empire's greatest military academy in exchange for assistance from rebel Scholars who claim that they will help to save her brother from execution.

ELIAS is the academy's finest soldier—and secretly, its most unwilling. Elias is considering deserting the military, but before he can, he's ordered to participate in a ruthless contest to choose the next Martial emperor.

When Laia and Elias's paths cross at the academy, they find that their destinies are more intertwined than either could have imagined and that their choices will change the future of the empire itself.

---
I'm beginning to think I'm a masochist. That's the only thing I can think of that explains why I decided to put myself through this kind of misery.
The instant I stumbled upon An Ember in The Ashes on goodreads, I knew I had to have it. Something in my bones told me that this was right up my alley. So I put it in my TBR shelf and prepared myself for a long wait. And then, miraculously, I stumbled upon a sneak peek version of the book on NetGalley. And let me tell you, it was like the clouds parted and the angels began to sing. OF COURSE I DOWNLOADED IT.
And then I regretted it. But not for the reason you may think.
I loved the little bit that I was able to read. LOVED it. That little Spidey Sense that told me this book was for me? Totally right. I NEED this book. I am in pain because I don't know what happens next and dammit, I've gotsta know. I'm frothing-at-the-mouth in need of it.
And alright, I don't have a full-length review to properly tell you guys to give this book a try, but hell if that's going to stop me. Get it. You must. And then you may thank me later.
*I received a free copy of this sneak peek from NetGalley and Penguin Young Readers Group in exchange for an honest review. Many thanks*