Cruel Beauty by Rosamund Hodge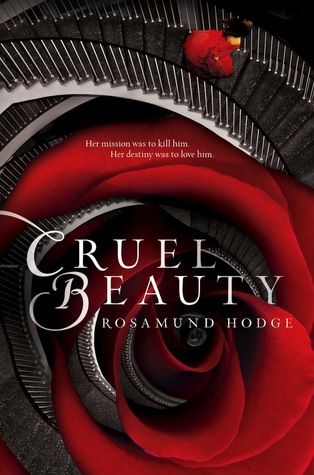 Published by Blazer + Bray
Genres: Fantasy, YA, Mythology, Fairytale retelling, Romance
For Fans of: Beauty and The Beast (duh), Laini Taylor's writing, Fairytale retellings
My Rating: 4 stars out of 5
Graceling meets Beauty and the Beast in this sweeping fantasy about one girl's journey to fulfill her destiny and the monster who gets in her way-by stealing her heart.

Based on the classic fairy tale Beauty and the Beast, Cruel Beauty is a dazzling love story about our deepest desires and their power to change our destiny.

Since birth, Nyx has been betrothed to the evil ruler of her kingdom-all because of a foolish bargain struck by her father. And since birth, she has been in training to kill him.

With no choice but to fulfill her duty, Nyx resents her family for never trying to save her and hates herself for wanting to escape her fate. Still, on her seventeenth birthday, Nyx abandons everything she's ever known to marry the all-powerful, immortal Ignifex. Her plan? Seduce him, destroy his enchanted castle, and break the nine-hundred-year-old curse he put on her people.

But Ignifex is not at all what Nyx expected. The strangely charming lord beguiles her, and his castle-a shifting maze of magical rooms-enthralls her.

As Nyx searches for a way to free her homeland by uncovering Ignifex's secrets, she finds herself unwillingly drawn to him. Even if she could bring herself to love her sworn enemy, how can she refuse her duty to kill him? With time running out, Nyx must decide what is more important: the future of her kingdom, or the man she was never supposed to love.

---
"Sooner or later, every blessing has a price" 
You know what my problem is? I love fairytales and I love fairytale retellings, but after the travesty that was Beastly,  I expect absolutely nothing from these books. Nothing. Zilch. Nada. I go into these preparing myself not to enjoy them because I'm so convinced that they're never be anywhere as good as the originals (or the Disney movies)
So, it's not really shocking that I didn't expect anything from Cruel Beauty. Actually, no. I was even more skeptical of Cruel Beauty than any other retelling I've read because Beauty and The Beast is one of my favorite fairytales of all time. But WHADAYA KNOW, I actually really liked this one.
Sure, it had its faults. The writing, while great, was sometimes borderline purple-prose-y; things were a tad confusing here and there, the world building was… meh (i'll get to this in a bit) and there was a little too much romance for my liking, but overall? It exceeded expectations.  *insert 'Snape approves' gif here*
I loved Nyx, the Belle of this story. I loved her complexity and her spark. She was exactly the kind of heroine I like to see in YA fiction. She was real and flawed, tenacious and strong-willed and I love, love, loved that about her. She was, by no means, a goody-two-shoes. There was a rawness to Nyx's character that I was really drawn to.
"She smiles because she is safe. She smiles because I am going to die"
"You bore me nine months, you gave me breath, and I hate you"
"Don't count your trophies before they're dead"
It's lines like that one that draw me in so well. Nyx's relationship with her family is complicated to say the least. She's been trained her entire life to kill the man she was betrothed to before her birth and over that time she's grown to hate her father for choosing her as the doomed daughter – for the fact that he loves her sister, Astraia, but only sees her as a weapon. She has a lot of venom for her father, as well as a bit of respect, which makes their relationship interesting to look at. As for Astraia, Nyx… love/hates her. When you've been picked to marry an evil demon, seduce and kill him, over your sister solely because she reminds your father of your mother… yeah, there's bound to be a little animosity. But Nyx tries to be a decent sister, even if she can't stop thinking poisonous thoughts about her.
And then there's Ignifex. I loved Ignifex. I loved his wry attitude, his great sense of humor and his wit. Ig, that little shit, he charmed the socks off me (Okay, I wasn't wearing any socks while reading this, but that's irrelevant). Ig was as complex and layered as Nyx was and it was glorious.
"I know it's not a compliment, but I do like  a wife with a little malice in her heart"
"Well, I'm already hoping there could be a dinner where you don't try to stab me with your fork"
The world building… I mentioned before that it was kinda meh. We don't know much about Arcadia, the island (?) Nyx lives on, except that it's somewhat similar to ancient Greek and Roman worlds. It was interesting, but I liked my details. I'd have appreciated more content on where we were, y'know? Don't just tell me it's a pasta dish, tell me what kind of pasta. Spaghetti? Penne? Is it accompanied with a red sauce or a white one? I'd like to know.
That being said, I thought Ignifex's castle was described wonderfully. It reminded me of the castle I know and love from the Disney movie, with it's own surprises here and there. It also, sometimes, struck me as a much less nefarious Rose Red. (The house. Stephen King. Google is your friend)
One of the elements I didn't like was the, um, overflow of romance. Look, I get this is a romance novel, but there have to be some limits. Nyx was sent to the castle to seduce and kill Ig, but she spent a lot of her time trying to decide who she loved more, Shade or Ig. Yes, that's right, THIS HAS A LOVE TRIANGLE IN IT. Why? BECAUSE WHY NOT.
"Then what have you learnt since coming here?"
What it's like to kiss your shadow
You know what you SHOULD have learnt, Nyx? IG'S WEAKNESSES. GOD.
Seriously though. The love triangle was unnecessary, the insta-love with Shade was unnecessary, and the many many kisses were unnecessary. Goodreads reviewer Wendy Darling mentioned that this book may have been more interesting as a NA novel, and I cannot agree more. Since seduction was supposed to be so central in this novel, it would have been more interesting to see actual seduction (in moderate doses) than all the repetitive, sappy, kissy-kissy nonsense we ended up getting.
And that, kiddies, is basically  why I didn't give this book five stars. The romance was too much, and the world building wasn't that great. But besides all this, I thought Cruel Beauty was a enjoyable read and a well executed retelling of Beauty and The Beast. The characters were whole and complex, and the story didn't glue itself to the original tale, meaning that The Girl Who Knows B&tB Like Back Of Her Hand (aka me) was actually given a few pleasant surprises.
"Where you go, I shall go; where you die, I shall die, and there I will be buried"
Don't touch me. My heart hurts.