The Winner's Crime by Marie Rutkowski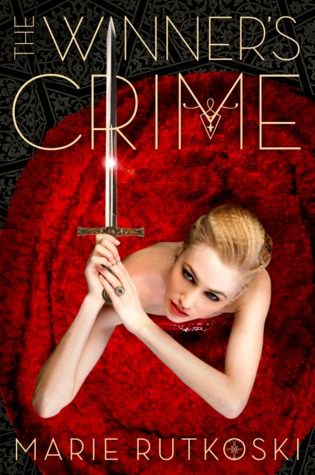 Published by Bloomsbury Publishing Plc (UK & ANZ)
Genres: YA, Fantasy, Romance
For Fans of: The Grisha series, The Daughter of Smoke and Bone series, Throne of Glass series
My Rating: 4.5 stars out of 5.
Lady Kestrel's engagement to Valoria's crown prince calls for great celebration: balls and performances, fireworks and revelry. But to Kestrel it means a cage of her own making. Embedded in the imperial court as a spy, she lives and breathes deceit and cannot confide in the one person she really longs to trust …

While Arin fights to keep his country's freedom from the hands of his enemy, he suspects that Kestrel knows more than she shows. As Kestrel comes closer to uncovering a shocking secret, it might not be a dagger in the dark that cuts him open, but the truth.

Lies will come undone, and Kestrel and Arin learn just how much their crimes will cost them in this second book in the breathtaking Winner's trilogy

---

Note: Many, many thanks to NetGalley and Bloomsbury Publishing Plc for giving me a copy of this book in exchange for an honest review.
How do I even begin to put my love for this into words? I just… I don't know.
I read this book back in January, and because I wanted to wait till sometime close to the date of publication, all my previous reviews were short. I called this one "captivating, beautiful and absolutely heartbreaking" and honestly? There's no other way for me to put it.
I've made it no secret that I loved The Winner's Curse. It was original, well-written and took me by surprise. It exceeded expectations, mostly because I was expecting a lot of cheese and a tired story line. Marie Rutkowski made me eat my words and take notice of her with The Winner's Curse. And if that wasn't bad enough, she completely upped her game with The Winner's Crime and smashed my heart into tiny, pulsing pieces. The writing was brilliant, the characters were real, the emotions were tangible and I felt them in my soul…
This one was paced slightly faster than the previous book, which makes sense considering the book's main conflict and story-line. It captures you from the start and doesn't loosen its talons (get it?) until the very last sentence. And by that time, you're too consumed by emotion to even notice.
There's not much more I can say about this one except that I am really, desperately looking forward to the next one. I don't know how I'm going to survive another year before I can get my paws on it.
The Winner's Crime is set for publication on the 12th of March. Do yourselves a favor and pick up a copy. If you've read the first one, then you probably don't need much prompting, but if you haven't, really, give this series a shot.