The Assassin's Curse by Cassandra Rose Clarke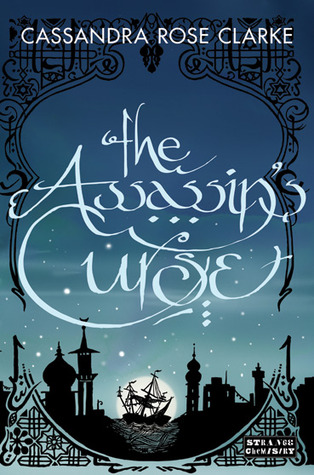 Published by: Strange Chemistry
Genres: YA, Fantasy
For Fans of: the Throne of Glass series, The Bartimaeus Sequence, and anything involving pirates
My Rating: 3.5 stars out of 5.
Ananna of the Tanarau abandons ship when her parents try to marry her off to another pirate clan. But that only prompts the scorned clan to send an assassin after her. When Ananna faces him down one night, armed with magic she doesn't really know how to use, she accidentally activates a curse binding them together.

To break the spell, Ananna and the assassin must complete three impossible tasks–all while grappling with evil wizards, floating islands, haughty manticores, runaway nobility, strange magic…and the growing romantic tension between them.

---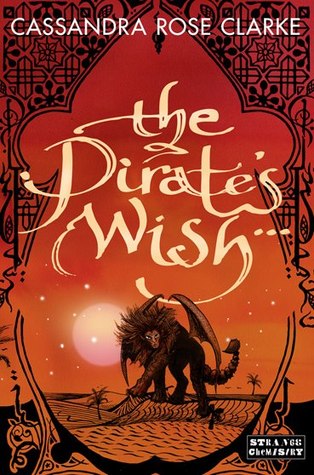 The Pirate's Wish by Cassandra Rose Clarke
Published by: Strange Chemistry
Genres: *as above*
For Fans of: *as above*
My Rating: 4 stars out of 5.
After setting out to break the curse that binds them together, the pirate Ananna and the assassin Naji find themselves stranded on an enchanted island in the north with nothing but a sword, their wits, and the secret to breaking the curse: complete three impossible tasks. With the help of their friend Marjani and a rather unusual ally, Ananna and Naji make their way south again, seeking what seems to be beyond their reach.

Unfortunately, Naji has enemies from the shadowy world known as the Mists, and Ananna must still face the repercussions of going up against the Pirate Confederation. Together, Naji and Ananna must break the curse, escape their enemies — and come to terms with their growing romantic attraction.

---
I love pirates. And I love assassins. I love stories about pirates. I love stories about assassins. The Assassin's Curse was a story about a pirate AND an assassin. There was absolutely no way in hell I wasn't going to pick this up eventually.
I'm glad I did.
The first book was a bit of a let-down, I'm not going to lie – mostly because I went into it with very high expectations. I was preparing myself to be blown away by the swash-buckling pirateyness and the mysterious assassin-ness that the reviews and blurb promised me. Was I blown away? No. But the story, I felt, was original and compelling. The characters were interesting and likable. The humor was good, the pacing was great, and the magical elements were used well. All in all, The Assassin's Curse was a good book. It didn't necessarily leave me clamoring for the sequel, but it kept me interested enough to see how Ananna and Naji's story concluded.
And then I picked up The Pirate's Wish. I can't tell you at what point I got hooked on this book, but it was somewhere around the time we met Ongraygeeomryn. (I liked her so much that I actually took the time to learn how to pronounce her full name). It captured me, and I honestly couldn't put this one down until I'd finished it.
The Pirate's Wish made up for the disappointment of The Assassin's Curse. It was funny, and original and a little bizarre (in the best way possible). The plot was more engaging, the emotions were stronger, and the conclusion was pretty satisfying. And the romance reminded me a little of Rose and Dimitri from Richelle Mead's Vampire Academy, so there's another plus.
Really, it's a great series if you love high fantasy, the ocean, and mythological creatures. I just wish the blurbs hadn't been so…. spoiler-y.
As always, if you've read this before, leave me a comment and tell me what you thought of it. And if you haven't and want to pick it up now, I suggest you read both books together. You can thank me later.