Heir of Fire by Sarah J Maas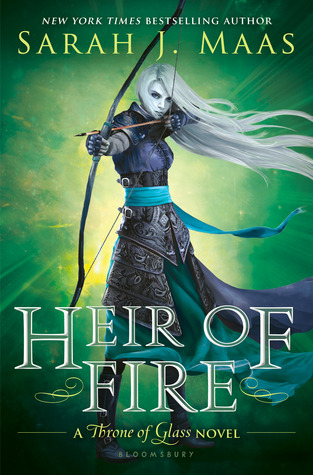 Published by: Bloomsbury USA Childrens
Genres: YA, Fantasy
For Fans of: The Grisha trilogy, The Dark Swan series, The McKenzie Lewis trilogy
My Rating: 4 stars out of 5.
Lost and broken, Celaena Sardothien's only thought is to avenge the savage death of her dearest friend: as the King of Adarlan's Assassin, she is bound to serve this tyrant, but he will pay for what he did. Any hope Celaena has of destroying the king lies in answers to be found in Wendlyn. Sacrificing his future, Chaol, the Captain of the King's Guard, has sent Celaena there to protect her, but her darkest demons lay in that same place. If she can overcome them, she will be Adarlan's biggest threat – and his own toughest enemy.

While Celaena learns of her true destiny, and the eyes of Erilea are on Wendlyn, a brutal and beastly force is preparing to take to the skies. Will Celaena find the strength not only to win her own battles, but to fight a war that could pit her loyalties to her own people against those she has grown to love?

---
MAY CONTAIN SPOILERS
So, I finished this just a few minutes ago, and my heart is still aching. Which means, yes, it's taking a whole lot of effort to keep this review from turning into a crazy fangirl love-rant (that's totally a thing).
I won't say I devoured this book – not in the same way I devoured Crown of Midnight. Heir of Fire took time and patience and a whole lot of willpower because it was long and slower paced than CoM. Much, much, slower paced. And it was lengthy. Sixty seven chapters isn't that much, but I haven't seen a YA book this long since… since… Harry Potter, I think. Whoa. (Or have I not been paying enough attention?)
For me, this was the book where Maas finally nailed the emotional aspect of things. She got me to assume fetal position, for crying out loud. You know she's won. I mean, everything was just so tangible. Caleana's brokeness after Nehemia's death, her ache for Chaol, her feelings of worthlessness – that all felt so remarkable real. Maas made me hurt right along with Celaena (or should I be calling her Aelin, now?). And it wasn't just Celaena. She made me hurt with Chaol and Dorian and Aedion and Rowan. Simply put, there was a lot of hurt and I felt it all. So kudos on that.
We have a couple new characters in this book, the three most important of them being Rowan, Aedion, and Manon. And while I'll fully admit that Manon's chapters sometimes seemed really tedious to me, I love all three of them. They're just such interesting characters, with such wonderful back stories and developmental arcs and I just want to see more of them.
And since we're on the topic of developmental arcs, I'm just going to take this moment to say that, while I am mad, mad, mad at how stupid and indecisive Chaol was being throughout this entire novel (up until the very end when he finally manned up), I still cling to the hope, the belief, that he will transform into this truly remarkable character by the end of the series and have ALL YOU HATERS eating your spiteful words.
I don't know what else I can say about this book, really. It was great. Slow, but great, and I have absolutely no clue what I'm going to do until the next one comes out. No clue whatsoever. Maybe I'll just go cry in a corner and deal with my feelings. That sounds good, no?
If you've read this or ARE reading this, comment so that we may cry together.