Throne of Glass by Sarah J. Maas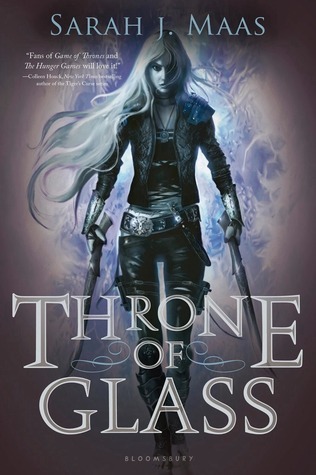 Published by: Bloomsbury USA Childrens
Genres: YA, Fantasy,
For Fans of: The McKenzie Lewis series, the Dark Swan series
My Rating: 3.5 stars out of 5.
In a land without magic, where the king rules with an iron hand, an assassin is summoned to the castle. She comes not to kill the king, but to win her freedom. If she defeats twenty-three killers, thieves, and warriors in a competition, she is released from prison to serve as the king's champion. Her name is Celaena Sardothien.

The Crown Prince will provoke her. The Captain of the Guard will protect her. But something evil dwells in the castle of glass–and it's there to kill. When her competitors start dying one by one, Celaena's fight for freedom becomes a fight for survival, and a desperate quest to root out the evil before it destroys her world.

---
MAY CONTAIN SPOILERS
So, I mostly picked this one up out of sheer curiosity. Almost every one of my friends on Goodreads have read and loved this series, so I wanted to understand what the fuss was about. And honestly, until I got to about the hundredth page, I didn't get it. Celaena was, in the beginning, annoying. She used too many exclamation points, was set off by the slightest thing and just generally got on my nerves. The only thing I truly liked about the beginning of the book was the bromance between Chaol and Dorian, because it was the sweetest thing ever.
Things picked up once the Champions competitions began. Either I got used to Caleana, or she mellowed out. Even though her inability to pick up on the most obvious clues still ticked me off, I slowly began to root for her, and I think that says a bit about the character development she underwent.
Personally, I thought the love triangle was a tad unnecessary. I mean, I don't know if I'm just biased because Chaol is one of my favorite characters from this novel, but I think it's pretty obvious that Caleana's got more chemistry with him than with Dorian. It just seems a little silly to damage the relationship between the two males for the sake of romantic drama, but that's just my personal opinion. What I did love was that the stirrings of the love triangle have not yet seem either male party belittles or picked apart, and I hope it stays that way. It just annoys me to no end when love triangles are introduced, and one party gets torn apart to make the other person seem great. So far, Sarah J. Maas has done a great job of not letting the love triangle change the boys. Both of them are great, well-rounded characters, with their equal share of good characteristics and bad.
I also love, love, LOVED how Maas was so unafraid to let her characters discuss things that would otherwise be omitted from a YA novel. I mean, I was beginning to feel like these YA heroines had all discovered some secret to never ever getting their periods, but then BOOM, Celaena walks in with severe, nausea-inducing period cramps. It. Was. Awesome.
There's really not much else I can say about this book except for the fact that it took me by surprise. When I first started reading it, I didn't expect to even finish it, let alone come away itching to read the next book. It might not be everyone's cup of tea, but if you're into books about fae and magic and assassins and crush-worthy princes and Captains of the Guard, I definitely recommend that you give this one a try.
If you've already read this, please feel free to leave me a comment and let me know what you thought about the book/series. I'm moving on to  Crown of Midnight, so I'll see you when I'm ready to review that one.