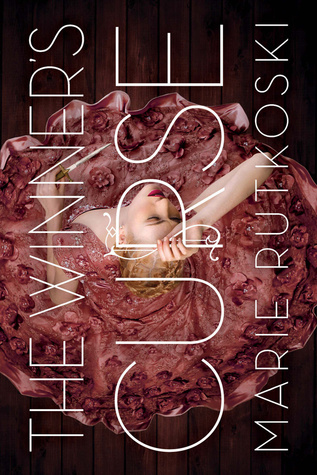 The Winner's Curse by Marie Rutkoski
Published by Farrar Straus Giroux
Genres: Fantasy, YA, Romance
For Fans of: 'The Grisha' series and 'The Daughter of Smoke and Bone' series
My Rating: 4.5 Stars out of 5
Winning what you want may cost you everything you love

As a general's daughter in a vast empire that revels in war and enslaves those it conquers, seventeen-year-old Kestrel has two choices: she can join the military or get married. But Kestrel has other intentions.

One day, she is startled to find a kindred spirit in a young slave up for auction. Arin's eyes seem to defy everything and everyone. Following her instinct, Kestrel buys him—with unexpected consequences. It's not long before she has to hide her growing love for Arin.

But he, too, has a secret, and Kestrel quickly learns that the price she paid for a fellow human is much higher than she ever could have imagined.

Set in a richly imagined new world, The Winner's Curse by Marie Rutkoski is a story of deadly games where everything is at stake, and the gamble is whether you will keep your head or lose your heart.

---

YEAH, THIS ONE CONTAINS SPOILERS
So I've been reading a lot more Historical Fiction of late, and I've got to say, I really sorta loved this.
I have a tendency to lean against YA books written in the third person, but for this novel, it worked. Rutkoski's narrative voice was simple and captivating, and honestly, I was hooked from the get-go. I mean, I read this in three days on Christmas week. You know I loved this. Actually could have finished this yesterday but for reason I shall not mention (achey feet and a troublesome sore throat) I went to bed a few chapters short of finishing the book.
But I digress.
Basically, this book's about Kestrel, the daughter of the General, and Arin, the slave she purchased on a whim at an auction.
(Side note: The kestrel is my absolute favorite bird in the entire world, I every time Kestrel's name  came up, a little voice inside my head would just say, "bruh, that is a great bird.")
The story literally starts off a few moments before she buys the dude, paying way too much than a blacksmith is worth – Which of course leads to a busybody in the crowd telling her that she'll suffer from the Winner's Curse. I loved that – how the whole story revolved around the emotional price Kestrel had to pay for buying Arin, a gray-eyed blacksmith, all because she respected his nerve and was told he could sing. (I feel you, Kes. I feel you)
I'm not going to lie to you, I went into this prepared to meet a sappy, lovesick couple with Romeo and Juliet syndrome and I am pleased to say that there was absolutely none of that in The Winner's Curse. Rutkoski don't got time for annoying couples. Kestrel's and Arin's relationship unfurled slowly, at such a wonderful pace that it was almost melodic. They went from Mistress-and-slave, to Poker Pals, to friends secretly in love with each other, to a whole June/Day situation. (Because, come on. Tell me Kestrel's deal with the Emperor remind you of that bomb at the end of Legend)
(It also reminded me of Mulan 2, but whatever)
The Winner's Curse is a great piece of storytelling and I recommend it to anyone to loves Historical Fiction and stories with war and romance in them.
And with that said, I am now going to cry over the fact that I DO NOT HAVE THE SECOND BOOK YET.