Paper Towns by John Green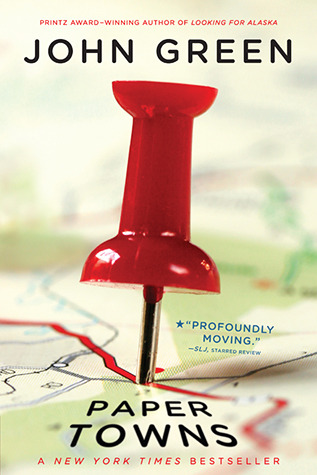 Published by Speak
Genres: Contemporary fiction, YA
For Fans of: Incredibly profound, poetic books.
My Rating: 5 Stars out of 5.
Who is the real Margo?

Quentin Jacobsen has spent a lifetime loving the magnificently adventurous Margo Roth Spiegelman from afar. So when she cracks open a window and climbs into his life—dressed like a ninja and summoning him for an ingenious campaign of revenge—he follows. After their all-nighter ends, and a new day breaks, Q arrives at school to discover that Margo, always an enigma, has now become a mystery. But Q soon learns that there are clues—and they're for him. Urged down a disconnected path, the closer he gets, the less Q sees the girl he thought he knew…

---
MAY CONTAIN SPOILERS
So, there's something I need to get out of the way before I can actually start this review, and it is this – If this review sounds bizarre and gush-y, it's because 1. I am writing this review under the influence of cold medicine and I have been known to do/say crazy things while on medication and 2. I adore John Green and his awesome awesomelyness. I highly doubt the man can do any wrong in my eyes.
But I'll probably see this tomorrow, take it down, and replace it with a more sensible review. Maybe. Probably.
Paper Towns. Jeez. This could quite possibly be my favorite John Green book. Did it make me assume a fetal position and cry for an hour the way TFiOS did? No. Did it make me fling the book away from myself (I'm still so so sorry for the way I treated that book. God)  in denial the way LFA did? No. But throughout this book, I found myself constantly putting it down to reflect and allow the things written in this to simmer into my soul. That's a part of the reason why it took me three days to finish this. I could have finished this in a day, easy, but I just had to pause every now and again to just think about things. And honestly, that's what I loved most – how hard-hitting and poignant it was. It's not often that a book itself can make me stop reading it and just stare off into space and mull. Even less often that I'd use the word "poignant" to describe something.
I think a big part of this book's success was the fact that Q, our wonderfully dorky protag, was so relatable. He wasn't searching for a 'great perhaps', he wasn't unconsciously looking for an 'infinity in a limited amount of days' – he was just living his life, dreaming of a future. Q's greatest concerns weren't that he's spend the rest of his days without finding a great adventure, or that he'd someday die of a terminal illness. No, Q's greatest concerns were (not going to) prom, graduating from high school, going to college and the fact that he drove his mother's mini-van.
This book is about Q. And at the same time, it's about each and everyone of us. It's about our human-ness and our perception of each other. It teaches about the dangers of not seeing other people as people.
Paper Towns is moving. It's thoughtful and sad and filled with the delightful John Green humor we all know and love. And unlike The Fault in Our Stars and Looking For Alaska (Which I absolutely adore), Paper Towns is so… deceptively simple. It's about a boy from a small town, desperately searching for the girl he thinks loves, but finding himself on the way. It is, quite easily, my favorite John green book so far.
So, if you haven't read this yet, I urge you to pick it up. This book is, honest to God, a gem. A shiny, beautiful, inspiring gem that I am kicking myself for not picking up sooner.