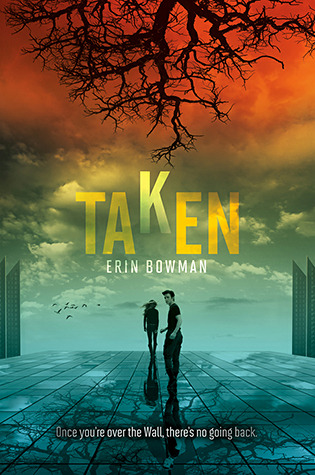 Taken by Erin Bowman
Published by HarperTeen
Genres: YA, Dystopia, Sci-fi
For fans of: The Legend Trilogy, The Juliette Chronicles, and other Dystopian YA novels.
My rating: 3.5 stars out of 5
"There are no men in Claysoot. There are boys—but every one of them vanishes at midnight on his eighteenth birthday. The ground shakes, the wind howls, a blinding light descends…and he's gone.

They call it the Heist.

Gray Weathersby's eighteenth birthday is mere months away, and he's prepared to meet his fate–until he finds a strange note from his mother and starts to question everything he's been raised to accept: the Council leaders and their obvious secrets. The Heist itself. And what lies beyond the Wall that surrounds Claysoot–a structure that no one can cross and survive.

Climbing the Wall is suicide, but what comes after the Heist could be worse. Should he sit back and wait to be taken–or risk everything on the hope of the other side?"
---
So, I wasn't too sure about this book at the beginning. It got a lot of mixed reviews on Goodreads, and most of the other bloggers whose reviews I trust weren't particularly blown away by this one. But I decided to give it a go, just to see if I'd like it.
And I did. Sure, it wasn't without its problems, but it was, in my opinion, an enjoyable read.
The protagonist, Gray, is a bit of a recluse who spends most of his time hunting in the wood. He has a bit of an attitude problem and is really only nice to his older brother Blaine and his niece Kale. He actually reminded me a little bit of Book one Katniss Everdeen – before she went into the first games and all that because, come on, how could he not? Look at all the parallels! Gray eyes, finds it hard to open up to people (with an exception of his sibling).  His weapon of choice is a bow and arrow. A bow. And. Arrow. COME ON.
I found the idea of The Heist really interesting. I spent the first few chapters going, Why the boys? Where did they go? Were they being killed or were they just being kidnapped? What's going on? SOMEONE TELL ME WHAT'S GOING ON.
And then I called the first twist, and basically answered a few of those questions for myself.
Luckily for me, calling the twists didn't ruin my experience. Once I got through the first couple of chapters, I found myself absorbed in Gray's world, needing to find out more. All in all, I say it's a good book. It wasn't mind-blowing or anything like that, but it's interesting enough that I want to get my paws on the second book. Totally recommend it if you enjoyed Legend or Shatter Me and, alright, even The Hunger Games. It's more a long the lines with the first two, but I suppose YA Dystopia is YA Dystopia.
Don't let the mixed reviews keep you from this. Give it a shot. You might like it.